Watch The First Ten Minutes Of Documentary 'The Death Of Superman Lives'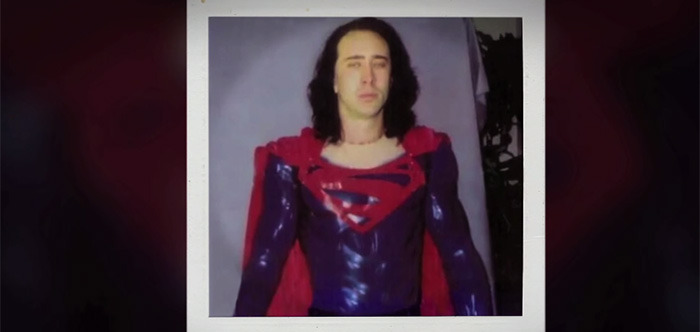 Over the weekend we ran a clip from the documentary The Death of Superman Lives: What Happened? from Jon Schnepp, which chronicles Tim Burton's failed attempt to make a Superman movie starring Nicolas Cage. The film was in development and pre-production in the '90s, based originally on a script from Kevin Smith, with a final revision from Dan Gilroy, who would eventually write and direct Nightcrawler.
The first ten minutes of The Death of Superman Lives are now online, and the long clip proves to be a good introduction to the story. It features Bryan Singer using still-infamous photos of Nic Cage in a Superman suit as a counter to exec interference on Superman Returns, and the disembodied head of comics writer Grant Morrison setting the stage for what could have been a very different Superman story.
Here's how the clip's YouTube page sets up the movie:
Enjoy the first 10 minutes of the feature film documentary "The Death of 'Superman Lives'; What Happened?" and find out all about the doomed "Superman Lives" production that was to star Nicolas Cage as the Man of Steel. Join Director Jon Schnepp as he explores the history of this project, and speaks with writers Kevin Smith, Wesley Strick, Dan Gilroy, Producers Jon Peters and Lorenzo di Bonaventura, Costume Designer Colleen Atwood, Director Tim Burton and many more.
The Death of Superman Lives: What Happened? will be available digitally beginning on July 9. You can see a trailer here.Check out the previous clip we've posted, which features some of the Nic Cage costume test footage that shows a couple of the costume designs that were being worked up for the movie, and which debunks at least one rumor about the flashy "electricity" suit that was developed for a small portion of the film. And keep an eye out for this film at Comic Con.