'Mission: Impossible - Rogue Nation' Clip Series Is All Action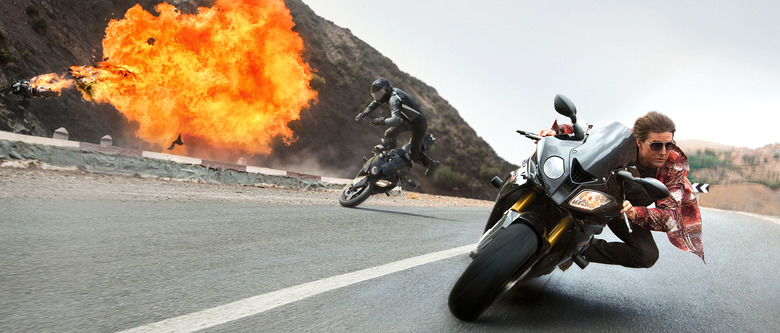 Age has not tempered Tom Cruise's ambitions when he's making action sequences on film, and it looks like Mission: Impossible  - Rogue Nation keeps the actor in overdrive. We've seen some evidence of his commitment to action in the first trailers for the film, and now a new Rogue Nation clip set highlights a few car and motorcycle chase sequences even more.  
This batch of footage originally ran on Entertainment Tonight, and it features sections from a couple of the film's chase scenes. (Or, perhaps more accurately, this could all be part of one long chase sequence. Clearly the two motorcycle sequences go together, and based on Cruise's costume, the car chase is probably tied into this as well.)
As good as those chase sequences look, it'll probably be the sequence in which Cruise was strapped to the side of an airplane in flight that will act as the real showstopper for this movie. We'll get a chance to see it all in action just a bit later this summer. If you saw Terminator Genisys in an IMAX theater this past weekend, you've probably already seen some of this footage all at once.
There's also this UK spot, which highlights the chase scenes and mostly relies on other footage we've seen in domestic trailers. But it's a fun spot regardless.
Mission: Impossible – Rogue Nation opens on July 31 in the US.
With the IMF disbanded and Ethan (Tom Cruise) out in the cold, the team now faces off against a network of highly skilled special agents, the Syndicate. These highly trained operatives are hellbent on creating a new world order through an escalating series of terrorist attacks. Ethan gathers his team and joins forces with disavowed British agent Ilsa Faust (Rebecca Ferguson), who may or may not be a member of this rogue nation, as the group faces its most impossible mission yet. Starring Tom Cruise, Jeremy Renner, Simon Pegg, Rebecca Ferguson, Ving Rhames, Sean Harris, Simon McBurney, Zhang Jingchu and Alec Baldwin.
The film is directed by Christopher McQuarrie, with a screenplay by Christopher McQuarrie and story by Christopher McQuarrie and Drew Pearce. Based on the television series created by Bruce Geller. Produced by Tom Cruise, J.J. Abrams, Bryan Burk, David Ellison, Dana Goldberg and Don Granger. Executive produced by Jake Myers.