'The Hunger Games: Mockingjay - Part 2' Character Posters: Katniss Gets Her Game Face On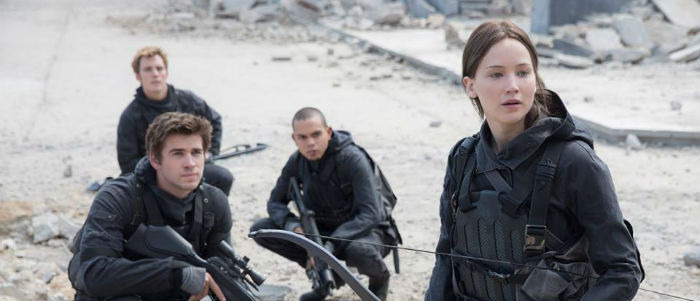 Three years, three films, and $2.3 billion in ticket sales have all been leading to this. The Hunger Games franchise comes to a (hopefully spectacular) end this fall with Mockingjay – Part 2, and lest you forget Lionsgate has just released a new series of posters for the sequel. In them, Katniss and company get their game faces on. See all the Hunger Games Mockingjay Part 2 character posters after the jump. 
[Sources: Facebook, Yahoo, MTV, EW, Metro, Mashable, IMDb, Fandango]
The posters are simple but striking, with the Mockingjay symbol splashed across each face in blood red. It makes sense to label Prim as a "sister" or Cressida as an "activist," but the identification of Gale as someone's brother and Peeta as someone's son is kind of weird, considering that their families are rarely even mentioned. But "potential love interests unite" probably sounds kind of weird.
The Hunger Games: Mockingjay – Part 2 closes out the Hunger Games franchise on November 20, 2015.
The blockbuster Hunger Games franchise has taken audiences by storm around the world, grossing more than $2.2 billion at the global box office. The Hunger Games: Mockingjay – Part 2 now brings the franchise to its powerful final chapter in which Katniss Everdeen [Jennifer Lawrence] realizes the stakes are no longer just for survival – they are for the future.
With the nation of Panem in a full scale war, Katniss confronts President Snow [Donald Sutherland] in the final showdown. Teamed with a group of her closest friends – including Gale [Liam Hemsworth], Finnick [Sam Claflin] and Peeta [Josh Hutcherson] – Katniss goes off on a mission with the unit from District 13 as they risk their lives to liberate the citizens of Panem, and stage an assassination attempt on President Snow who has become increasingly obsessed with destroying her. The mortal traps, enemies, and moral choices that await Katniss will challenge her more than any arena she faced in The Hunger Games.