Rob Liefeld Will Hide 24 'Deadool' Sketches Around Comic-Con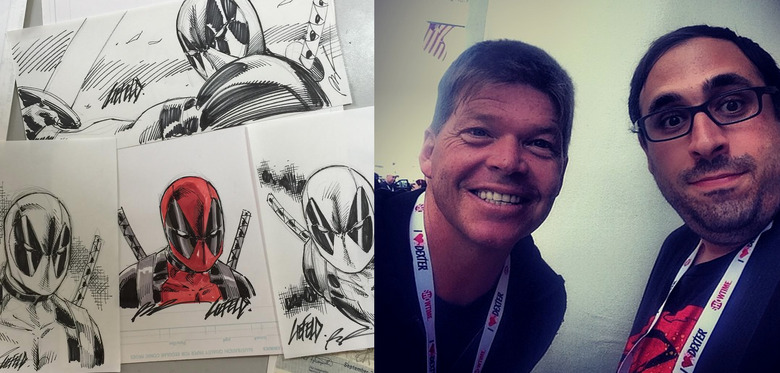 Who wouldn't want a Deadpool sketch by legendary comic book creator and artist Rob Liefeld? Comic Con might be our chance.
Rob is celebrating the huge 24th year of Deadpool by hiding 24 Deadpool drawings of all shapes and sizes all over the greater staging area of the 2015 edition of San Diego Comic Con International. Find our more details on how to find a Rob Liefeld Deadpool sketch, after the jump.
Rob Liefeld Comic Con Sketches
I've been told, this extends from the convention center to the historic Gas Lamp, surrounding restaurants, and various parties Rob will be attending.
"I want to give something back to the tremendous fan following Deadpool has enjoyed since I introduced him in the pages of New Mutants #98!" Liefeld told me. "I'm also going to be utilizing clues through various web sites during the show to make it more interactive! Fans are encouraged to follow all my social media outlets on twitter, Instagram and periscope to get all the info surrounding the sketches and the times and clues surrounding their whereabouts."
So if you want to find one of Rob Liefeld's hidden sketches at Comic Con, follow Rob on Twitter and instagram for some clues.
I've been a fan of Rob's work for 20-something years now and finally met the man at Comic Con a couple years back (see the header image). Someday I hope to obtain an original sketch by Rob on my office wall.