'Snowden' Teaser Trailer: Oliver Stone Revisits The Not-Too-Distant Past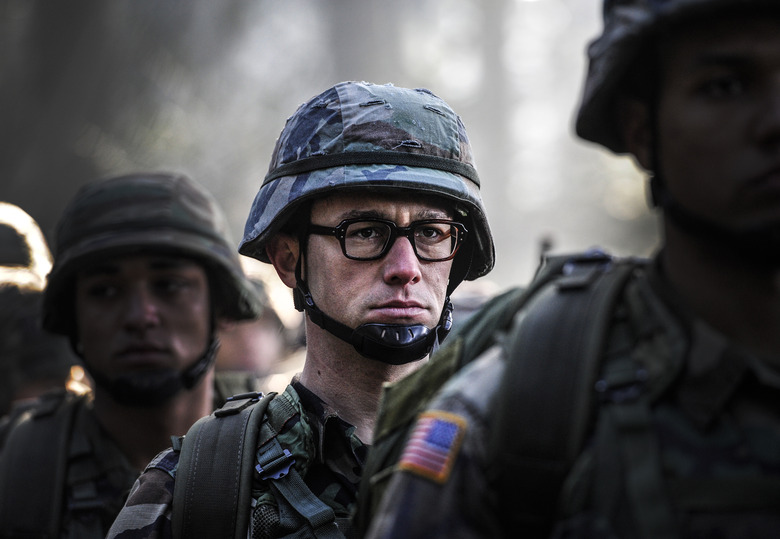 Two years after Edward Snowden leaked those NSA documents, he's become a hot button topic all over again. Earlier this year he appeared in Laura Poitras' documentary Citizenfour, and now a fictionalized version of him will get the spotlight in Oliver Stone's Snowden.
Joseph Gordon-Levitt leads the cast as the famous whistleblower, who joined the army and then the CIA before landing at the NSA. Watch the first Snowden teaser trailer after the jump.
It's not much to look at, seeing as there's no actual footage. Just some basic facts about Snowden intercut with a moving graphic of an upside-down American flag. And all of it is set to a slowed-down cover of a familiar song, because that seems to be the thing to do these days.
In case you missed the significance, the official U.S. Flag Code states that "The flag should never be displayed with union down, except as a signal of dire distress in instances of extreme danger to life or property." Whether this qualifies, I guess, is for you to decide.
At this point, the Snowden teaser trailer mainly exists to remind you that this movie is a thing. On that front, mission accomplished. Open Road still has months of marketing ahead, so hopefully we'll get some actual footage before long.
Snowden arrives in theaters December 25, 2015. Also starring are Shailene Woodley as Snowden's girlfriend Lindsay Mills; Melissa Leo as Citizenfour director Laura Poitras; Zachary Quinto as journalist Glenn Greenwald; Tom Wilkinson as political reporter Ewen MacAskill; Timothy Olyphant as a CIA agent who befriends Snowden; and Nicolas Cage as a former intelligence official.
SNOWDEN stars Joseph Gordon-Levitt and is written and directed by Academy Award®-Winning Director Oliver Stone. The script is based on the books The Snowden Files: The Inside Story of the World's Most Wanted Man by Luke Harding and Time of the Octopus by Anatoly Kucherena.