'Ant-Man' Clip: Paul Rudd Tries Out The Whole Shrinking Thing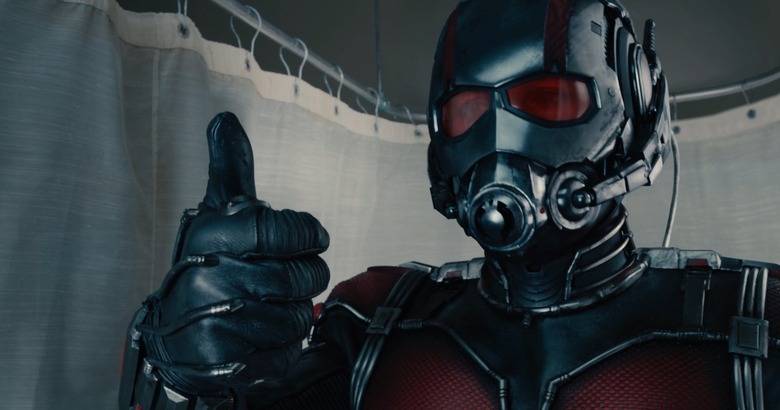 We're used to Marvel men going big: they armor up, Hulk out, get super soldier-ized. So what happens when one goes really, really small? In a new clip from Ant-Man, Marvel's newest superhero finds out. Scott Lang (Paul Rudd) takes the Ant-Man suit for a test run in his bathtub, with potentially disastrous results. Watch the Ant-Man clip after the jump.
Marvel shared the new Ant-Man clip on YouTube.
While we've seen plenty of footage from this film already, it's fun to watch a longer scene play out. This offers a pretty good sense of what makes Ant-Man unique and different within the Marvel Cinematic Universe. All the Avengers have their weaknesses, but you'll never see any of them felled by an innocent splash of bath water.
Directed by Peyton Reed, Ant-Man arrives in theaters July 17, 2015.
The next evolution of the Marvel Cinematic Universe brings a founding member of The Avengers to the big screen for the first time with Marvel Studios' "Ant-Man." Armed with the astonishing ability to shrink in scale but increase in strength, master thief Scott Lang must embrace his inner-hero and help his mentor, Dr. Hank Pym, protect the secret behind his spectacular Ant-Man suit from a new generation of towering threats. Against seemingly insurmountable obstacles, Pym and Lang must plan and pull off a heist that will save the world.
Marvel's "Ant-Man" stars Paul Rudd as Scott Lang aka Ant-Man, Evangeline Lilly as Hope Van Dyne, Corey Stoll as Darren Cross aka Yellowjacket, Bobby Cannavale as Paxton, Michael Peña as Luis, Judy Greer as Maggie, Tip "Ti" Harris as Dave, David Dastmalchian as Kurt, Wood Harris as Gale, Jordi Mollà as Castillo and Michael Douglas as Hank Pym. Directed by Peyton Reed and produced by Kevin Feige, Marvel's "Ant-Man" delivers a high-stakes, tension-filled adventure on July 17, 2015.