Arnold Schwarzenegger Says Eddie Murphy Loves The Idea For The 'Twins' Sequel 'Triplets'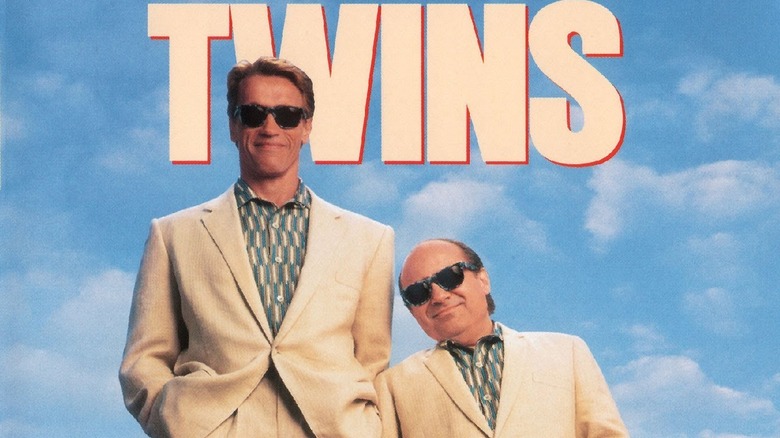 With Arnold Schwarzenegger doing press for Terminator Genisys, we now have an update on the Twins sequel which has been in the works since 2012. Writer-actor Josh Gad was hired to write the screenplay for Triplets, but said earlier this year that the project was now "on hold". Arnold seems to think there is forward momentum and claims that Eddie Murphy "loves the idea" and wants to join the threequel as the third brother.
Schwarzenegger appeared on The Howard Stern Show on Wednesday and revealed the following about the Twins sequel Triplets:
"Now we are talking about a sequel, where we find out at the funeral of our mother, that when we read the will, that there's three of us. Eddie Murphy is going to be the third one and so they go, 'How did that happen' Theres an African American coming in here and all of a sudden he's our brother. So we go to do the research but he can only get the money if we find him, so now we have to get him involved."
Arnold says the idea came about through different writers who have been working on the project, not Ivan Reitman.
"I don't even know if Ivan is going to direct it or just produce it, but the writers came up with [the idea] and it's hilarious."
Arnold also confirmed that Eddie Murphy is on board if they go into production:
"Eddie Murphy loves the idea. Danny DeVito and I had lunch with Eddie Murphy over at my house, and we talked about the thing, and we were laughing and laughing the whole meal through because it was such a funny idea. And of course, who wouldn't like it."
As for the current status of the project, Arnold says they are fine-tuning the script:
"They have a script but it has to be, like most scripts, fine-tuned. And so they are fine tuning it right now."
Last we heard about the project was in January with Josh Gad, who co-wrote a draft of the movie with Ryan Dixon, stating that Universal has put the project on hold:
The script is actually done. Everybody agrees that it's great. We wound up doing 2 drafts. Universal, I think, hit the pause button temporarily for whatever reason – internally I think they are trying to figure out if they want to do a sequel or not. I would say if there's an outpouring of affection, that may move the needle, but I think it's on hold right now. But everybody read the script and loved it, so I hope it sees the light of day at some point. It's there and in great shape. [About the story:] The lives have changed in that the two of them find themselves at a major crossroads where they've sort of grown apart over the years and what winds up bringing them together is a 3rd brother they never knew they had who could potentially be played by Eddie Murphy...
If the movie goes into production Gad could possibly play Arnold's son who looks like Danny (the gag is that Danny also has a son, but his son looks like Arnold).