'Daredevil' Season 2 Is Basically "Daredevil Vs The Punisher"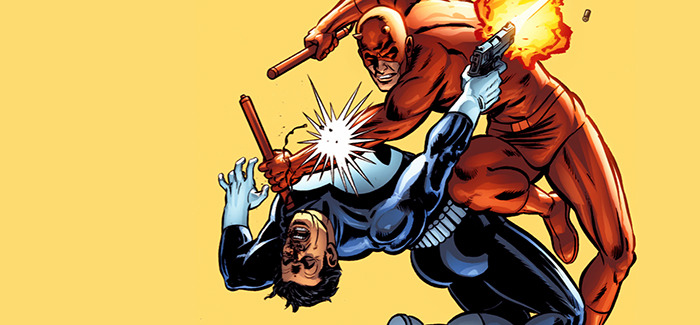 We may receive a commission on purchases made from links.
Daredevil season 2 has new showrunners, Doug Petrie and Marco Ramirez, and a big new Marvel character as the anti-hero Frank Castle, aka The Punisher, is set to bring violent vigilante justice to Hell's Kitchen. Jon Bernthal (The Walking Dead) will play Castle when the show's second season gets going.
Since the casting announcement, we've wondered to what degree the Punisher would factor in to Daredevil. Turns out, he might be a huge part of the season, to the degree that he could provide the most significant opposition to Daredevil in the new collection of episodes.
Nerdist reports that co-showrunner Ramirez has described the new season as "Daredevil vs. the Punisher."
BUT. That doesn't mean that Frank Castle is going to be taking Wilson Fisk's place as the Big Bad. Instead, it sounds like the battle between Daredevil and Punisher will be essentially a moral battle. After all, Daredevil may be violent, but he's not a killer, while Frank Castle is often explicitly a killer.
In the show's first season, Daredevil and Wilson Fisk, aka the Kingpin, moved towards being arch-nemeses. Their opposing approaches to rebuilding Hell's Kitchen as Daredevil sought to help the lower classes, while Fisk favored gutting and rebuilding provided the spine of the season's story. (With Daredevil's martial arts tutor Stick showing up as sort of a violent good guy version of Fisk.)
With (spoiler) Fisk now in prison, we're going to see other criminals trying to take control of Hell's Kitchen. Expect to see the Punisher reloading to blow them away to whatever degree he can. That will naturally lead to conflict with Daredevil. Could that turn out to be a two-front war that the blind hero cannot hope to sustain? Or will this season take hints from one big Daredevil story arc to find the horned hero himself trying to fill the power vacuum left by Fisk?
Meanwhile, rumors persist that both Elektra and Bullseye will show up in season 2; we'll await more casting reveals to help predict their futures.