Billion Dollar Disneyland Expansion Proposed: Cue The Marvel/Star Wars Rumors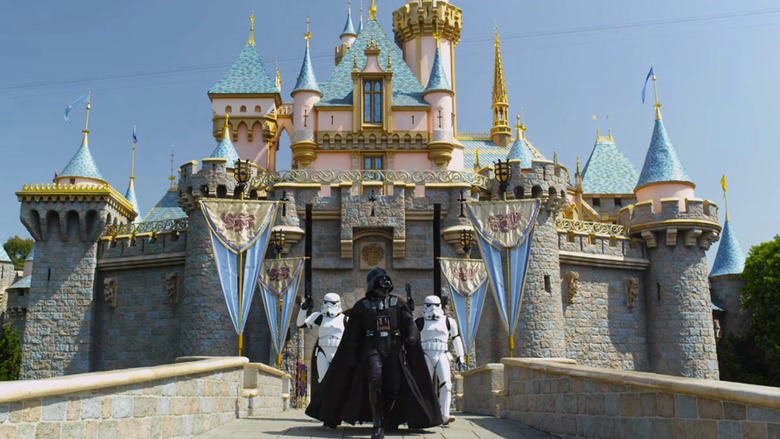 The Walt Disney Company has publicly announced they are considering a $1 billion-plus expansion of the Disneyland Resort, which would bring unknown new attractions, a new parking structure with at least 5,000 parking spots and other improvements to the Southern California-based theme parks. Could this mean new Marvel and Star Wars rides and lands are just on the horizon? Find out the details of the proposed Disneyland Expansion after the jump.
According to Disney officials, the expansion would not add a third theme park (i.e. third gate) to the Anaheim-based Disneyland resort, but instead would expand its existing offerings. There have been rumors for a while now that Disney would be doing a huge remodel of Tomorrowland to revamp much of it as a Star Wars land. There have been so many other rumors over the years, which have included connecting Critter Country to Fantasyland and replacing Mickey's Toon Town with a Star Wars themed land. Reports the Orange County Register:
Disney officials said they don't know potential rides, themed lands and other details yet, but said construction would begin by late 2017 and wrap up no later than December 2024. The company now owns the "Star Wars," Marvel and Pixar franchises and has other options such as banking off its "Frozen" blockbuster. ... Disney has elbow room inside the two Anaheim parks. California Adventure has approval for 3 million square feet of theme-park space but has used only 900,000, according to Anaheim's master-plan agreement with Disney. Disneyland already has used 2.6 million of its 3.5 million square feet available, city records show.
The expansion of Disney California Adventure, which included Buena Vista Street and the brand Cars Land was completed in 2012 also at a reported cost of a $1 billion-plus. So that may give you some idea how much can be accomplished for that amount of cash. The ariel map below gives you some idea of the land Disney uses to currently operates Disneyland resort. Notice backstage areas like the one to the right of Cars Land and below Tower of Terror which could possibly used for more attractions, restaurants and stores.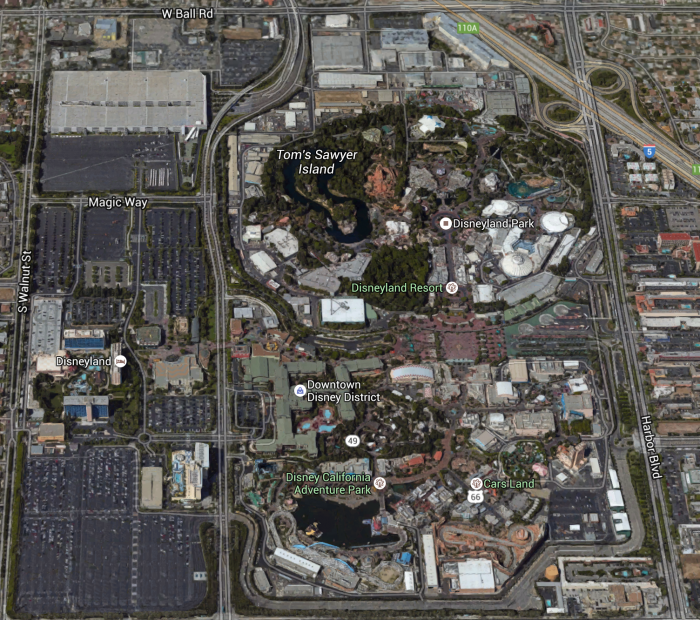 The proposed Disneyland expansion would not extend either of the parks outside the current attraction and parking lot areas. The only thing that would be constructed outside of the current park property is the new parking structure, which would be located just east of Harbor Boulevard in a piece of property already owned by the mouse.
2024 is a long time to wait for completion on an expansions, especially considering what Universal Studios Hollywood has been able to complete in much much less time. Earlier this year, Disney Chairman Bob Iger already told shareholders that the company was planning to expand the Disneyland Resort and that Disney Imagineers were working on bringing Star Wars attractions to the domestic Disney theme parks.
So why is Disney making it public that they are considering investing over a billion dollars in Disneyland resort? Because they are asking the city of Anaheim for a deal in exchange for the investment that will bring 1,400 jobs and a lot of tourism dollars to the city. Disney wants to forgo a tax on theme park admission tickets for another 30 years.
The Anaheim City Council will hold a public hearing on July 7th 2015 to consider extending the current entertainment tax exemption for Disney that started in 1996 and is set to expire on June 30th of next year (2016). According to the Orange County Register, "two members of the Anaheim City Council said they support Disney's desire to expand without threat of a ticket tax. Two others said they were undecided, while Mayor Tom Tait said he opposed the plan." TheDisneyBlog has a good rebuttal of the proposed deal. The gist of which follows:
If I was on the Anaheim city council, I'd be very tempted to say no. Disney has legitimate needs to expand right now. They need to find ways to fit the Star Wars and Marvel franchises into the parks and need to increase capacity to meet increased demand for the parks. Plus Disney needs to keep up with the Joneses. Universal Studios Hollywood is in the middle of a huge expansion and threatens to soak up some of the tourist market in Los Angeles. Disney really needs to offer something new of their own to compete. All that means, there's a very good chance that Disney would build this expansion anyway, even if they don't get the package of tax incentives they're asking for. I'm not seriously suggesting that Anaheim not work something out with Disney. But they also need to remember that Disney already played them over WestCOT. What I would push for is a committment for a third gate in the next 5 years. Heck, Anaheim could even promise land for the park a very reasonable price. $1 billion in development may be nice, but an attraction or two that Disneyland was going to build anyway, isn't a prize. A theme park that brings an extra 30,000 guests a day, all the extra nights hotel stays, and all that tourism revenue into the city's coffers, now that's something a city could get behind.
I think its pretty clear Disney will expand in the next ten years as the parks need to compete with all the new additions that Universal Studios had been adding to their Hollywood theme park. Its also clear that Disney will strike a deal with Anaheim over admission tax as no Disney park in the world currently has an admission tax. So its just a matter of what deal Anaheim agrees with to make it happen.