'Game Of Thrones' Season 6 Directors Include "Hardhome" Helmer And 'Lost' And 'The Americans' Vets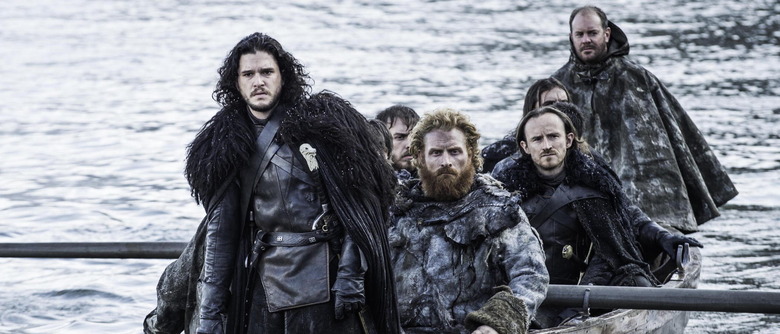 The Game of Thrones Season 5 finale left open a lot of questions about which actors might or might not be back for Season 6. Who's really dead? Who's still alive? Who's getting resurrected as a White Walker or a mysterious Kingsguard knight?
Behind the camera, however, it seems things are a bit more settled. HBO has revealed the full list of directors for the next season of its fantasy juggernaut, teasing another action-packed season ahead. Find out who the Game of Thrones Season 6 directors are after the jump. 
EW got the rundown on the Game of Thrones Season 6 directors. There are five total, and each is directing two consecutive episodes.
Episodes 1 and 2 will be directed by Jeremy Podeswa, who helmed Season 5's "Kill the Boy" and "Unbowed, Unbent, Unbroken." His other credits include episodes of HBO's Boardwalk Empire and Showtime's The Tudors.
Episodes 3 and 4 will be directed by Daniel Sackheim. He's new to Game of Thrones but has plenty of directing experience on other shows like FX's The Americans and Fox's Lie to Me, House, and The X-Files.
Episodes 5 and 6 will be directed by Jack Bender, another Thrones newbie with a long list of non-Thrones credits. He's probably best known for his work on Lost, of which he directed 38 episodes. He's also worked on Under the Dome, The Sopranos, and Alias.
Episodes 7 and 8 will be directed by Mark Mylod, who directed "High Sparrow" and "Sons of the Harpy" in Season 5. He was a regular behind the camera on HBO's Entourage (23 episodes) and Showtime's Shameless (11 episodes).
Episodes 9 and 10 will be directed by Miguel Sapochnik, who gave us Season 5's "The Gift" and "Hardhome." You might remember the latter as the one with the massive wight attack, and Game of Thrones traditionally goes big for the ninth episode of this season. So it looks likely another massive action setpiece is on the horizon.
It's pretty common for Game of Thrones to book directors two episodes at a time. A single installment of this show can shoot for weeks or months across multiple continents. It's simply more efficient for each director to shoot two episodes back-to-back.
What exactly each episode will be about remains a huge mystery. Many of the show's characters have come to the end of their book storylines, so Season 6 is when we'll really start to see the show deviate from or jump ahead of George R.R. Martin's novels.