Watch The First 8 Minutes Of MTV's 'Scream': Bella Thorne Recreates Classic Drew Barrymore Scene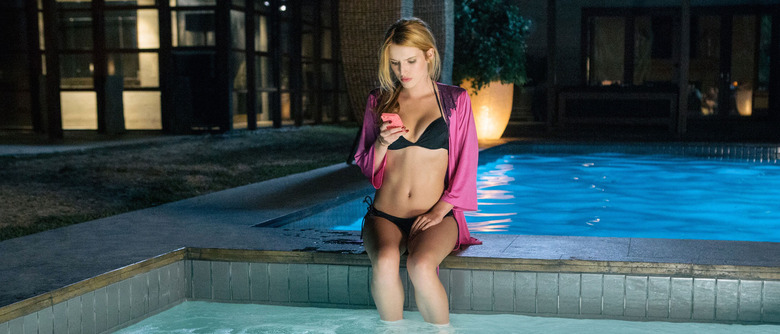 MTV has a fine line to walk with its Scream TV series. Recreate the original films too closely, and they'll be accused of laziness; stray too far from them, and they'll alienate purists. We'll have to wait and see how the series fares as a whole, but as revealed in a new Scream clip, the first eight minutes try their best to put their own spin on one of the movies' classic scenes.
Bella Thorne plays Nina, a rich, popular mean girl whose evening goes horribly awry in a way that'll feel very familiar to fans of the first Scream. Watch the Scream TV series opening scene after the jump. 
Well, we knew it was coming. Thorne confirmed back in December that she'd be re-enacting Drew Barrymore's memorable first scene from the movie.
As in the original Scream, that first kill is just a catalyst for everything that happens next. Bex Taylor-Klaus plays Audrey, the artsy loner outed by Nina's viral video. Helping her through this tough time are her geeky friend Noah (John Karna) and her childhood BFF Emma (Willa Fitzgerald).
Meanwhile, Emma's mother Maggie (Tracy Middendorf), a medical examiner, is working with local sheriff Clark Hudson (Jason Wiles) to solve Nina's murder — which may or may not be connected to a killing spree in the town's past.
Scream premieres June 30 on MTV. Also starring are Carlson Young, Amadeus Serafini, and Connor Weil.
After a cyber-bullying incident results in a brutal murder, the shocking violence stirs up memories of a killing spree from the past that has haunted some, intrigued others and maybe just inspired a new killer. A group of teens — with two old friends struggling to reconnect at its heart — become lovers, enemies, suspects, targets and victims of an assassin who's out for blood.