'Star Trek 3' Starts Filming; More Evidence It Will Be Titled 'Star Trek Beyond'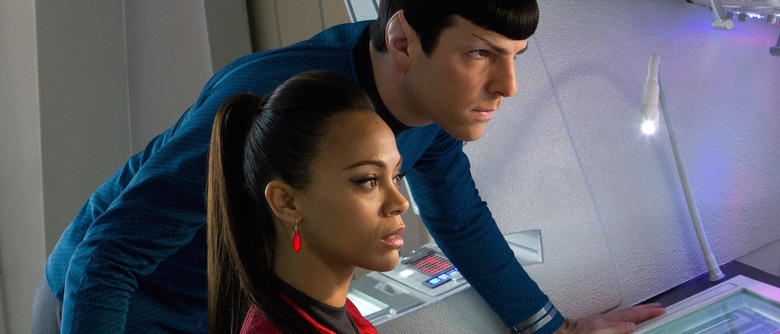 The USS Enterprise is ready to embark on its new mission. Star Trek 3 has reportedly begun shooting near Vancouver, Canada, and stars Zoe Saldana and Zachary Quinto have shared a couple of cute photos from set to mark the occasion.
Even as production gets underway, though, there's still a lot we don't know about the new movie — like the title. But we might be getting closer to an answer on that front, as still more evidence has surfaced it'll be called Star Trek Beyond. Get all the latest Star Trek 3 updates after the jump.
SciFiPulse reports Star Trek 3 has begun filming as of today, Thursday June 25, under the working title Washington. The production is set up in Squamish, a community outside Vancouver that is known for its bouldering. Justin Lin is directing from a script by Simon Pegg and Doug Jung.
For Quinto, who plays Spock, that means it's time to whip his hair and eyebrows back into shape. The actor took to Instagram to post photos of himself prepping for the role.
Saldana, who plays Uhura, has also reported to the set. (Though perhaps she doesn't have a lot to do right at this moment — she shared this funny Dubsmash video of herself acting out a scene from Coming to America, tagged "#boredatwork.")
Quinto, Saldana, and Pegg will be joined in the movie by the other members of the Enterprise crew including Chris Pine, Karl Urban, John Cho, and Anton Yelchin. In addition, Idris Elba is on board as a villain, and Sofia Boutella has a major role. Plot details are being kept under wraps but the cast and crew have said it'd involve the Enterprise going on their five-year mission.
Meanwhile, the pile of evidence for the Star Trek Beyond title continues to grow. Trek Movie reports the URL StarTrekBeyond.com has just been registered by MarkMonitor, which Paramount has used to register official sites in the past (including StarTrekMovie.com).
We first heard about that potential title in April, when Paramount registered the name Star Trek Beyond with the MPAA. A few weeks later, Pegg casually mentioned the name Star Trek Beyond in an otherwise unrelated blog post. However, Paramount hasn't yet confirmed the new title.
Star Trek Beyond, or whatever it winds up being called, lands July 8, 2016.