Captain EO Could Be Coming To Disney Infinity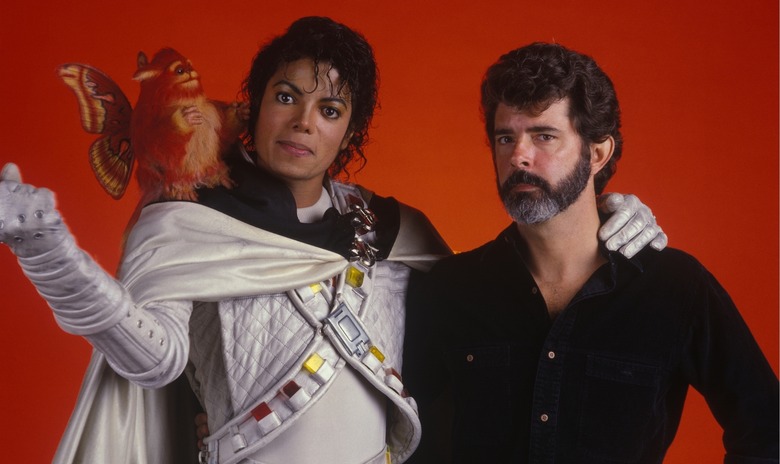 I still haven't gotten into Disney's popular collectible toy video game platform Disney Infinity, despite the fact I own four Disney Infinity figures (hey, they just look cool). Disney is gearing up to launch the third version of the game platform which will include Star Wars, Inside Out and more, and now we are hearing the future could feature another George Lucas property.
No, not Indiana Jones (not yet at least, although a Indy-focused Disney Infinity set is bound to happen eventually), but instead the George Lucas-produced Francis Ford Coppola-directed Disneyland 3D short film Captain EO which starred Michael Jackson and Anjelica Huston. But will Disney actually release Captain EO Disney Infinity content? Find out the details after the jump.
The 3D sci-fi short film has been a favorite of 1980's Disney fanatics. Shown at Disney theme parks from 1986 through 1996, the short returned as a tribute following the Jackson's death, from 2010 to 2015. And now it looks like Captain EO might live on inside the digital toy box of Disney Infinity.
Infinity VP John Vignocchi recently confirmed that he has secured the approval of Martin Scorsese, George Lucas, and the Jackson estate to produce some kind of Captain EO content inside Disney Infinity:
JV: Passion project! I've been given the greenlight to bring Captain EO to @disneyinfinity if I can make it happen😄 https://t.co/g1MqUmKScM

— John Vignocchi (@JohnVignocchi) May 20, 2015


Update: It appears Bleeding Cool was wrong about Vignocchi securing approval from Scorsese and Lucas. Here is a video interview clarifying. It seems like he thins he will get the needed approvals to make it happen:
Now I don't think Captain EO holds enough recognition with today's youth to have its own set, but you never know.  I'd love to get my hands on Fuzzball and Hooter Disney Infinity figures.
The 17-minute film cost a record $17 million in 1986 ($35 million adjusted for inflation), which minute for minute was the most expensive motion picture of all time. Steven Spielberg was originally signed on to direct the movie but had to cancel due to scheduling conflicts with his other film projects. The film opened in Epcot and Disneyland in mid-September 1986, Tokyo Disneyland in March 1987, and Disneyland Paris in 1992. The action on the screen was recreated for the live audience using lasers, laser impacts, smoke effects, and starfields that filled the theater.  The presentation was replaced by Honey I Shrunk the Audience, another live interaction 3D short.
The story followed Captain Eo and his rugged ragtag crew who went on a mission to deliver a special gift to a wicked queen (played by Anjelica Huston) who lives on a dark, desolate world. Captain EO can be found online on many of the video sharing websites. The film featured two songs, "We Are Here to Change the World" and "Another Part of Me" by Michael Jackson.