'Houdini & Doyle' Cast Conjures Up Michael Weston And Stephen Mangan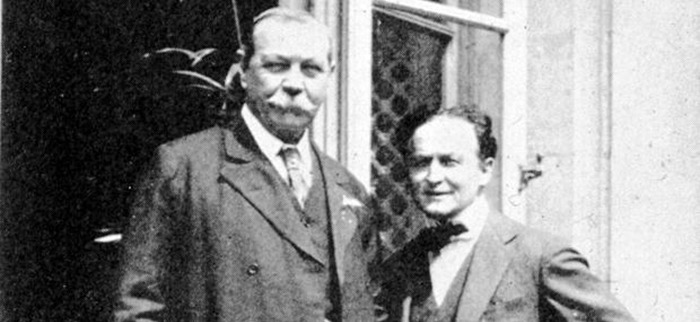 The friendship and animosity between escapist Harry Houdini and Sherlock Holmes creator Sir Arthur Conan Doyle is the stuff of modern legend. Houdini, the talented performer who aggressively campaigned against the junk mysticism of the Spiritualism movement that became particularly popular in the teens and '20s, was at one point fast friends with Doyle, an initial skeptic who became a committed Spiritualist.
Now Fox is making a show that uses the relationship between the two men as the spine of a period procedural, and we now know the key players in the Houdini & Doyle cast.
TV Line reports that Michael Weston (House) will play Houdini and Stephen Mangan (Episodes) will play Doyle in the ten-episode series that is bankrolled by Big Talk out of the UK and Shaftesbury out of Canada.
Spiritualism focused on the persistence of the soul after death, and communication with the dead through mediums and group seances. As a popular "religious" movement, it's roots go back to the early/mid 1800s, but Spiritualism reached great levels of popularity in the late 1800s and early 1900s, with particular surges tied to the aftermaths of the Civil War and World War I.
Houdini was a committed skeptic, and made a public spectacle out of debunking fraudulent mediums. Doyle was initially skeptic, but after the deaths (due to varying causes) of his first wife, one of his sons, and other family members, he found solace in Spiritualism. Eventually, his devotion to the movement was the end of his friendship with Houdini.
We don't know the precise time setting of the show, but at the very least it finds the two men as friends. The basic concept is that "together, they ally with Scotland Yard to investigate inexplicable crimes that have a supernatural slant." In other words, this will be a heavily fictionalized affair, sort of a period X-Files.
The cast also features Rebecca Liddiard (Between) as Adelaide Stratton, the first female constable ever to work for the London Metropolitan Police Force, and the show has House creator David Shore as an exec producer.
Shore said in a statement,
I've long been intrigued by both Houdini and Doyle; men who were ahead of their time, each fascinating in their own right. But the idea that these two, seemingly so different, could have been friends is almost too perfect. In Michael and Stephen, we have found two incredible actors that embody the intelligence, humor and mystique of these men who, even when viewed through the lens of history, are larger than life.
Houdini & Doyle should air in early 2016 in the US; it will play on ITV in the UK in Spring 2016.