WTF: 'Mr. And Mrs. Smith' Reality Show In The Works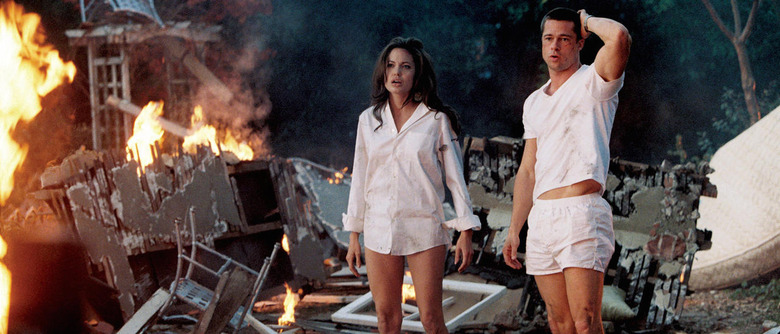 We've heard about a lot of movies getting turned into shows recently, but this idea sounds a bit crazier than most. New Regency and 3 Ball Entertainment are teaming up for a reality show based on Mr. and Mrs. Smith, the 2005 action comedy that starred Brad Pitt and Angelina Jolie as a husband and wife who try to kill each other.
More on the Mr and Mrs Smith reality show after the jump. 
Directed by Doug Liman and scripted by Simon Kinberg, the original movie starred Brangelina as a bored suburban couple. In reality, they're both assassins working for competing agencies. When they discover the truth, each is assigned to eliminate the other. However (plot twist!) they wind up rekindling their romance and joining forces against their agencies.
Thankfully, it doesn't sound like the new TV series will be taking the premise too literally. (Even in the sleaziest corners of reality TV there's a line, and it stops somewhere short of spousal murder.) Instead, Variety reports, the Mrs and Mrs Smith reality show will pit married couples against each other in a "high-octane, high-stakes game that offers a twist on the TV competition format."
New Regency, which produced the original film, is teaming with 3 Ball Entertainment to develop and produce the series. 3 Ball's other shows include ABC's Extreme Weight Loss, Spike's Bar Rescue, and Animal Planet's My Cat From Hell, and past series Beauty and the Geek and For Love or Money.
Mr. and Mrs. Smith was a hit for Fox, making $478 million worldwide. Of course, some of that was thanks to the rampant (and, it turned out, true) rumors about Pitt and Jolie falling in love on set. The show won't have that kind of A-list sizzle to help it along.
New Regency has tried several times to expand on the first film's success. In 2007 ABC ordered a Mr. and Mrs. Smith pilot with Jordana Brewster and Martin Henderson in the leads, but ultimately decided to pass. A few years after that, Fox and New Regency tried to fire up a reboot / prequel film without Jolie and Pitt, but that also went nowhere.