'Justified' Exec Producer Bringing Elmore Leonard's 'Gunsights' To TV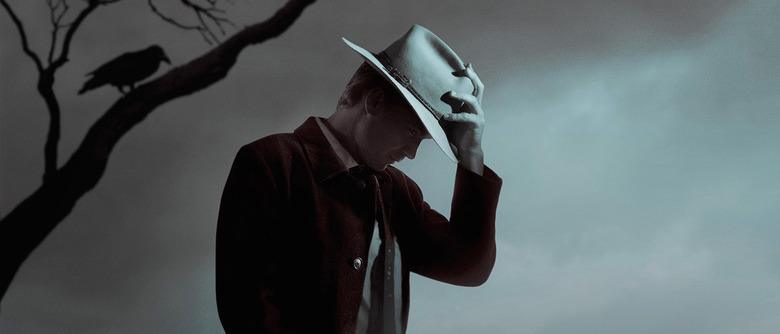 Elmore Leonard proved to be a rich mine of material for FX's Justified, which spun six great seasons out of his short story "Fire in the Hole." Now Justified executive producer Chris Provenzano is looking to dip back into the Leonard oeuvre for a new project.
Provenzano is working on a new AMC series called Gunsights, based on Leonard's Western novel set in 1893 Arizona. More details on the Gunsights TV show after the jump. 
Deadline reports Provenzano is developing Gunsights as part of an overall deal he recently signed with AMC. The network has been looking to launch a new Western series to follow up Hell on Wheels, which wraps up in summer 2016.
Published in 1979, Gunsights follows Army officer Brendan Early and scout Dana Moon, who used to work together for the 10th Cavalry. Now the former friend and allies find themselves on opposite sides of a conflict between a mining company and a group of settlers.
Brendan works for said mining company, which wants to rid an Arizona mountainside of settlers, including Mexicans, Apaches, and former 10th Cavalry soldiers. Dana is one of those settlers, an Indian agent defending the land against these mining company thugs.
Provenzano joined Justified in Season 2 and stuck with it for the next five seasons, all the way through its end in Season 6. Before that, he wrote the Mad Men episodes "Shoot" (which gave us that iconic Betty Draper shotgun scene) and "The Hobo Code" (which earned Provenzano a WGA nomination).
His other credits include the cancelled ABC series Defying Gravity, episodes of FX's Archer, and he feature film Get Low.
Leonard is a prolific writer whose body of work stretches back to the 1950s. He's also a favorite of Hollywood's. 3:10 to Yuma, Jackie Brown, Out of Sight, and Get Shorty are among the many, many films based on his novels and short stories.