'True Detective' Making-Of Video Looks At The Creation Of Season Two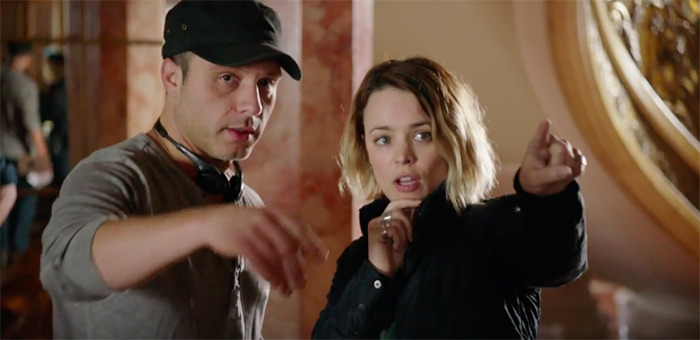 The first episode of True Detective's second season has aired, and the internet is already working double-time to react to the show's return. Is it better than the first season, or even as good? Early reviews have some insight, but even they can't make a definitive claim yet, as HBO only offered access to the first three of eight episodes. Whatever the show is at the opening, there's a lot left to see.
HBO has offered something new to follow up the season premiere: a brief True Detective behind the scenes look, which features interviews with new stars Colin Farrell, Vince Vaughn, Rachel McAdams and Taylor Kitsch. Exec producer Scott Stephens shows up, too. You'll see creator/writer Nic PIzzolatto at work, but he doesn't appear as an interview; rather, the show is meant to be his voice. 
You may also want to take some time to really explore the show's new opening credits sequence, featuring the song 'Nevermind' by Leonard Cohen. Here's the sequence, isolated from the show:
Also on the music front, The Wall St. Journal has a good profile on Lera Lynn, who co-wrote and sang the song featured in the first second season trailer, and who appeared in this first episode.
True Detective airs Sundays at 9PM/8C. Video via HBO.
A bizarre murder brings together three law-enforcement officers and a career criminal, each of whom must navigate a web of conspiracy and betrayal in the scorched landscapes of California. Colin Farrell is Ray Velcoro, a compromised detective in the all-industrial City of Vinci, LA County. Vince Vaughn plays Frank Semyon, a criminal and entrepreneur in danger of losing his life's work, while his wife and closest ally (Kelly Reilly), struggles with his choices and her own. Rachel McAdams is Ani Bezzerides, a Ventura County Sheriff's detective often at odds with the system she serves, while Taylor Kitsch plays Paul Woodrugh, a war veteran and motorcycle cop for the California Highway Patrol who discovers a crime scene which triggers an investigation involving three law enforcement groups, multiple criminal collusions and billions of dollars.