'Mission: Impossible - Rogue Nation' International Trailer: Tom Cruise Continues To Cheat Death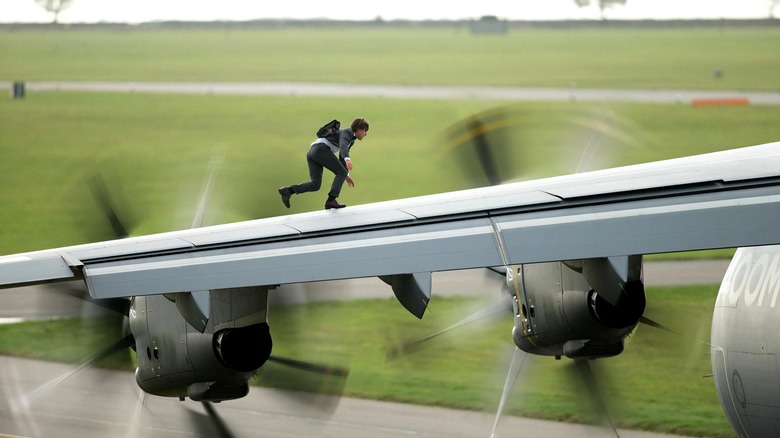 We're deep into the summer movie season now, with massive tentpoles like Avengers: Age of Ultron and Jurassic World already behind us. But fear not — there are still more fun times ahead, including next month's Mission: Impossible – Rogue Nation.
If you've ever seen a Mission: Impossible movie, you already know the drill. IMF agent Ethan Hunt (Tom Cruise) is once again on the run, and once again he has to engage in a string of death-defying stunts to save himself, his agency, and the world. And once again, it all looks jaw-droppingly cool.
Christopher McQuarrie directed this time around, and Simon Pegg, Jeremy Renner, Ving Rhames, Rebecca Ferguson, and Alec Baldwin star with Cruise. Watch the new Mission Impossible Rogue Nation trailer after the jump. 
Paramount Pictures International posted the new Mission Impossible Rogue Nation trailer on YouTube. A lot of this is familiar footage, but there are new bits and pieces mixed in throughout.
It couldn't have been easy for Cruise and the filmmakers to figure out a way to top the Burj Khalifa stunt from Mission: Impossible – Ghost Protocol. But between the airplane stunt (for which Cruise actually strapped himself outside an airplane) and the underwater scene (for which Cruise held his breath for six minutes), it's safe to say Mission: Impossible – Rogue Nation won't skimp in thrills.
Really, the only part of this trailer that rings false is when William Brandt (Renner) tells Cruise, "This may very well be our last mission." While Paramount hasn't actually confirmed a Mission: Impossible 6, the crazy hype surrounding Mission: Impossible – Rogue Nation suggests there's still plenty of juice left in this series. It's tough to imagine Paramount not coming back for more.
Mission: Impossible – Rogue Nation lands in theaters July 31.
With the IMF disbanded, and Ethan (Tom Cruise) out in the cold, the team now faces off against a network of highly skilled special agents, the Syndicate. These highly trained operatives are hellbent on creating a new world order through an escalating series of terrorist attacks. Ethan gathers his team and joins forces with disavowed British agent Ilsa Faust (Rebecca Ferguson), who may or may not be a member of this rogue nation, as the group faces their most impossible mission yet.