'Fear The Walking Dead' Hits The Ground Running In New Promo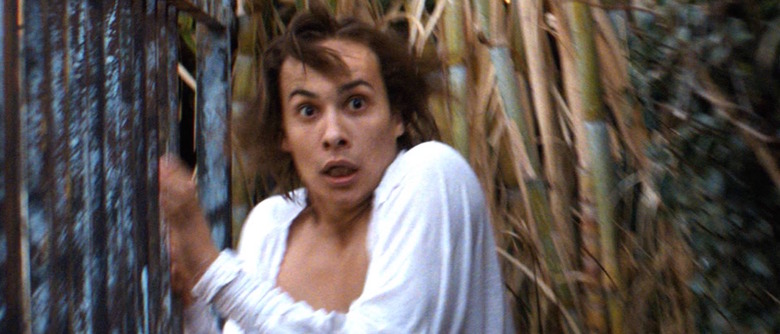 In the great debate over fast zombies vs. slow ones, the shuffling corpses of The Walking Dead fall definitively into the latter camp. Even so, it's hard to blame a guy for wanting to get the hell away from them as fast as humanly possible. The newest Fear the Walking Dead teaser hits the ground running, sending star Frank Dillane on a sprint away from unseen forces. Watch the new Fear the Walking Dead teaser after the jump.
AMC dropped the latest Fear the Walking Dead teaser on YouTube. It's less reminiscent of The Walking Dead than it is the opening scene of It Follows, but that's not really a bad thing.
It's not actually clear what Nick (Dillane) is running from. Whatever the threat is, he's clearly been caught unawares. He bare-chested, with just a woman's cropped cardigan to cover his shoulders. It probably didn't come from his closet, so maybe he was caught messing with the wrong woman? In any case, he definitely isn't dressed for a nice fall jog.
In a recent interview with EW, series creator Robert Kirkman described Nick as "pretty much a parent's worst nightmare. He has flunked out of college, had a lot of trouble, got mixed up in some bad elements, and is definitely the problem child."
Making matters worse is he fact that Nick's younger sister Alicia (Alycia Debnam-Carey) seems to be Little Miss Perfect. Kirkman explained, "They love each other because they are brother and sister, but to a certain extent it's almost like they are each other's worst enemies because one is screwing things up while she's trying to achieve things and get on to the college, and the other one is seeing her as this reminder of everything that he can't be."
Kim Dickens plays Nick and Alicia's widowed mother Madison, a teacher at the local school. Cliff Curtis is Madison's boyfriend and colleague Travis. Other key characters include Travis' son Chris (Lorenzo James Henrie), Travis' ex-wife Liza (Elizabeth Rodriguez), and Alicia's boyfriend Matt (Maestro Harrell).
Fear the Walking Dead takes place "very early" in the zombie outbreak, as revealed by Kirkman. "In pockets of civilization there would be news stories that didn't really make sense and didn't seem connected. And that's kind of where we pick things up," he said. "And things ramp up very quickly from there."
As with The Walking Dead, Fear the Walking Dead will focus on the personal over the global. "These are characters that are focused on survival and they're not focused on saving the world and they're not focused on curing the outbreak," he said. "They're focusing on making sure they have enough food, making sure that they're in a safe place, and making sure that they're not being attacked."
Fear the Walking Dead premieres this summer on AMC.