Sony And Paramount Join Marvel In Skipping Comic-Con; Jesse Eisenberg Confirms 'Batman V Superman'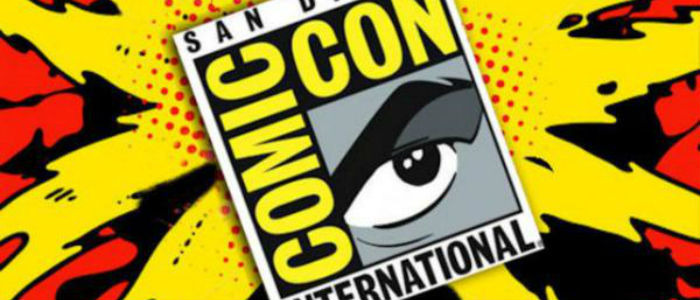 San Diego Comic-Con has yet to officially release its schedule, but many things are already going on. We know Disney and Lucasfilm are bringing Star Wars to Hall H at some point Friday, we've heard definitively that Marvel Studios is skipping this year, and now two more studios are joining Marvel on the sidelines. These are Sony and Paramount, two studios who had very good Comic Con panels last year but reportedly don't feel they have enough to show this year.
One studio which will be showing up is Warner Bros., as confirmed by Lex Luthor himself, Jesse Eisenberg. In a new interview, the Oscar nominee confirmed he'll be at Comic-Con for Batman v Superman: Dawn of Justice. Read all the info below.
First up, Variety reported the news of Sony and Paramount skipping. Looking at their upcoming schedules, it both makes sense and doesn't. Let's break it down. These are the major movies each studio has coming out between now and next Comic-Con.
Sony
Hotel Transylvania 2 9/25/15
Concussion (2015) 12/25/15
Ghostbusters (2016) 7/22/16
Lots of good movies, but only Kitchen Sink is probably a Comic-Con home run. Pixels, too, but that's so close to release. Everything else that fits is a little too far out. Plus, Ghostbusters literally just started shooting and we don't know when SDCC is next year.
Paramount
Mission: Impossible – Rogue Nation 7/31/15
Paranormal Activity: The Ghost Dimension 10/23/15
Scouts vs. Zombies 10/30/15
Untitled Bad Robot Film 3/11/16
Untitled Mann/Apatow Comedy 4/15/16
Same Kind of Different as Me 4/29/16
Friday the 13th (2016) 5/13/16
Teenage Mutant Ninja Turtles 2 6/3/16
Again – the biggest movies here with total Comic-Con appeal are Turtles and Trek, one that just started shooting and the other hasn't yet. Sure a few others would fit – Zoolander 2 for example – but it's still pretty far out.
So, yeah, these schedules and timing just probably don't warrant a big presentation. No use showing up if you don't have something cool to show.
What's interesting about these two studios in particular skipping is last year, both Sony and Paramount has fantastic panels, but neither got a lot of hype. Sony brought some great footage from Goosebumps along with Jack Black and dozens of costumed villains. But...it was in the Indigo Ballroom, so lots of people missed it. Then Paramount trotted out freaking Christopher Nolan and Matthew McConaughey for Interstellar, but that played to a half empty room because those names weren't on the schedule.
Knowing that each studio likely spent a ton on those panels, didn't get a lot of traction, then you add in their production cycles, and this makes sense.
Who will be there? Warner Bros. Not that was ever in doubt as the studio has been making their presentations bigger and bigger every year with this year likely no exception. Everyone expects Warner Bros. to trot out a ton of information on their DC slate, specifically Batman v Superman: Dawn of Justice and one of the stars confirmed this. Talking to Collider, Jesse Eisenberg revealed he's going to be in Hall H for an hour during Comic-Con. Awesome.
What do you think about this year's Comic-Con absentees?
Additional source: Box Office Mojo