Rumor: 'Wolverine 3' Will Be Based On Mark Millar's 'Old Man Logan' Arc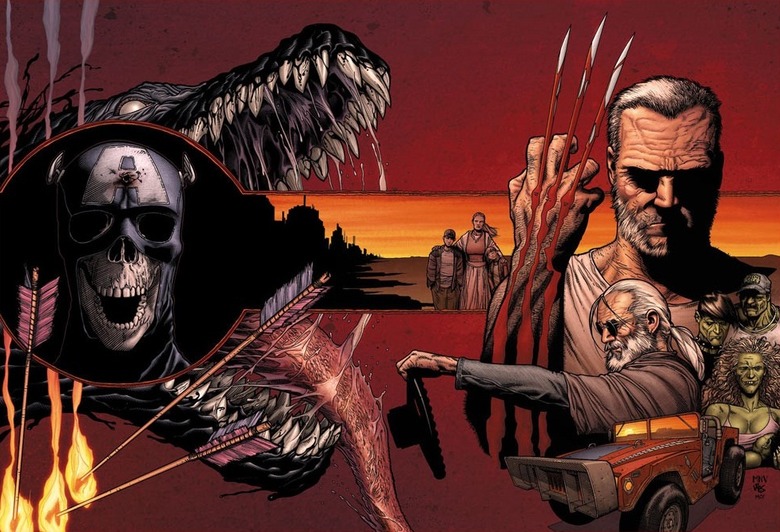 It seems appropriate that the practically ageless Wolverine would be the one constant in Fox's X-Men franchise. But after over a decade and more than half a dozen films, Hugh Jackman will be saying goodbye to the character in 2017 with the untitled Wolverine spinoff.
Details on the film have been kept under very tight wraps. But now a new rumor suggests Jackman will be able to give the character a nice sendoff by bringing him into the twilight of his life via the Old Man Logan storyline from the comics. Hit the jump to read all about the Wolverine 3 Old Man Logan rumor.
Heroic Hollywood's El Mayimbe dropped the Wolverine 3 Old Man Logan rumor during a recent appearance on Popcorn Talk. (The Wolverine stuff begins around 39:15 if you're curious.) He was careful to emphasize that nothing was official at this point. "It's a rumor, not confirmed," he said. "I'm still looking into it."
As rumors go, though, this is a pretty intriguing one. Written by Mark Millar and drawn by Steve McNiven, the Old Man Logan arc ran for eight issues from 2008 to 2009. It unfolds in a dystopian future where supervillains run the world, and nearly all of the superheroes have been wiped out.
Logan has long since given up the Wolverine persona, following a traumatic event. Nowadays he leads a simpler life with his wife and kids. In need of money to pay his rent, he accepts a job helping the now-blind Hawkeye deliver a mysterious package across the country.
As much as we're going to miss Jackman in the role, Old Man Logan could potentially be a great conclusion for him. It'd allow Jackman to bring the character to a natural endpoint, and could make use of the fact that Jackman himself has aged over that time even if his character barely has. Moreover, its futuristic setting would let Wolverine 3 stand on its own without getting too tangled up with Fox's other Marvel movies.
However, Old Man Logan would require some major retooling on the way to the big screen. Though many of the X-Men appear in flashbacks, Wolverine and Emma Frost are among the only X-Men characters actually involved in the main storyline. Instead, the arc features a lot of Marvel characters that Fox doesn't have the rights to, including Hawkeye, the Hulk, Mysterio, Kingpin, and Red Skull.
That said, the X-Men stable is huge. It wouldn't be impossible for Fox to rewrite the story using only the X-Men and their associated characters. Especially considering Millar already serves as a consultant on Fox's Marvel movies.
Do you like Old Man Logan as a potential storyline for the next Wolverine movie?