'Dark Places' Trailer: Charlize Theron Navigates The Twists And Turns Of A Gillian Flynn Mystery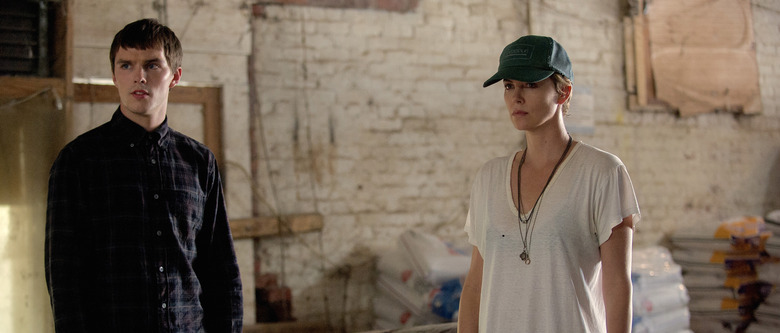 Mad Max: Fury Road co-stars Charlize Theron and Nicholas Hoult reunite under very different circumstances in the first U.S. trailer for Dark Places, based on the bestselling novel by Gillian Flynn (Gone Girl).
Theron plays Libby, who as a child survived a horrifying incident that left her mother and two sisters dead. Her testimony pegged her brother as the killer, sending him to prison for life. But 25 years later, Libby is approached by true-crime obsessive Lyle (Hoult), who forces her to reexamine what happened on that fateful night. Watch the Dark Places trailer after the jump.
Yahoo posted the new Dark Places trailer.
Dark Places arrives August 7, 2015. Corey Stoll, Christina Hendricks, Chloë Grace Moretz, and Tye Sheridan also star. Gilles Paquet-Brenner directed.
Libby Day (Charlize Theron) was only seven years old when her mother and two sisters were brutally murdered in their rural Kansas farmhouse. In court, the traumatized child pointed the finger at her brother, Ben (Tye Sheridan), and her testimony put the troubled 16-year-old in prison for life. Twenty-five years later, a broke and desperate Libby has run through donations from a sympathetic public and royalties from her sensational autobiography, without ever moving past the events of that night.
When Libby accepts a fee to appear at a gathering of true-crime aficionados led by Lyle Wirth (Nicholas Hoult), she is shocked to learn most of them believe Ben is innocent and the real killer is still at large. In need of money, she reluctantly agrees to help them reexamine the crime by revisiting the worst moments of her life. But as Libby and Lyle dig deeper into the circumstances surrounding the murders, her recollections start to unravel and she is forced to question exactly what she saw—or didn't see. Aslong-buried memories resurface, Libby begins to confront the wrenching truths that led up to that horrific night. Also starring Christina Hendricks, Corey Stoll and Chloë Grace Moretz, Dark Places is an ingeniously twisted thriller based on the best-selling novel by Gillian Flynn (Gone Girl).