Phil Lord And Chris Miller Developing 'Son Of Zahn' Live-Action / Animation Hybrid Comedy For Fox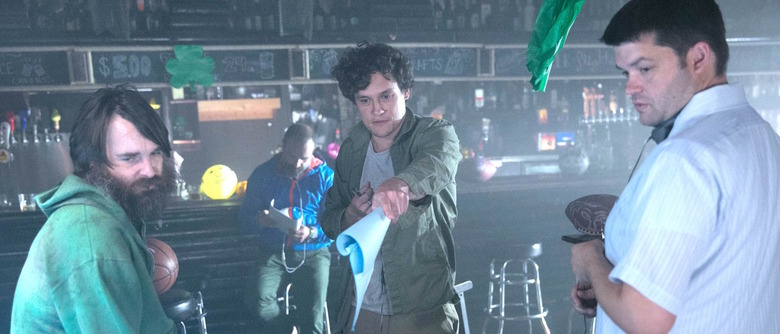 Phil Lord and Chris Miller have made a career out of unexpected choices, but even by those standards their latest project sounds pretty weird. The pair are developing Son of Zahn, a new comedy for Fox about an animated barbarian who returns to his live-action family. Johnny Pemberton is already set to star.
Get all the Phil Lord Chris Miller Son of Zahn project details after the jump. 
THR reports the live-action / animation hybrid series will shoot an 8- to 10-minute pilot presentation for Fox later this summer. The story follows an animated barbarian father who has spent the past ten years waging war in his distant animated world.
Zahn finally comes back home to his live-action son and ex-wife, only to find his mundane suburban life a far bigger struggle than actual battle. He has trouble bonding with his family, and is bored by his new office job. Pemberton plays the titular son of Zahn, a moody (live-action) teenager named Alan.
It's a pretty bizarre premise, and one that could turn out unwatchable without the right talent. But if anyone knows how to spin gold out of terrible-sounding straw, it's Lord and Miller. Consider me cautiously interested.
TV vet Eric Appel will direct and co-executive produce the series, while Reed Agnew and Eli Jorne (Wilfred) will serve as co-showrunners and executive producers. Seth Cohen will also executive produce.
Pemberton co-starred in Lord and Miller's 21 Jump Street and 22 Jump Street as Delroy, one of Channing Tatum's nerdy friends. His other credits include In the Loop, This Is 40, The Watch, and episodes of The Kroll Show.
Lord and Miller previously teamed with Fox on the Will Forte comedy The Last Man on Earth, which has already been renewed for a second season. In addition, they're producing sequels to 22 Jump Street and The Lego Movie, and working on the story for Warner Bros.' superhero movie The Flash.