'Boulevard' Trailer: Robin Williams Goes Dramatic For One Of His Final Roles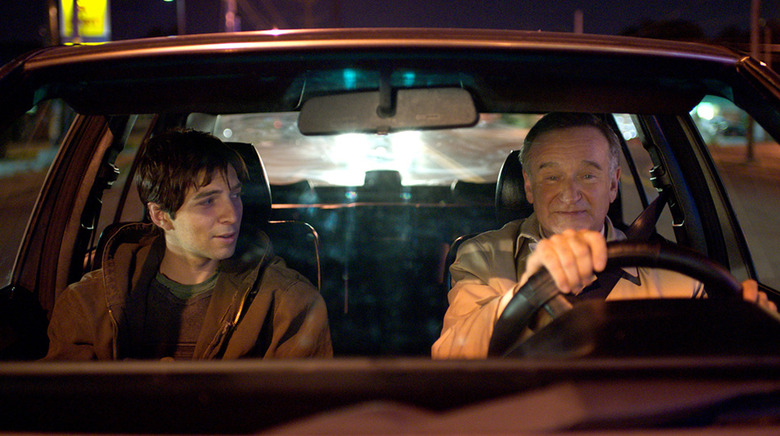 Though Robin Williams was known mostly for his comedic work, he was a versatile actor who could also tap into his dramatic range to moving effect. That's the side on display in the first trailer for Boulevard, his final onscreen performance.
Williams plays Nolan, who on the surface seems to be doing just fine. He has a decent, well-paying job, and a peaceful marriage with a nice woman named Joy (Kathy Baker). Secretly, however, Nolan is struggling with being gay. His issues come bubbling up after he makes an impulsive decision to pick up a young street hustler (Roberto Aguire).
Dito Montiel directed, and Bob Odenkirk co-stars as Nolan's best friend. Watch the Boulevard trailer after the jump.
Boulevard is quite a change of pace for Montiel, who has made his name on tough-guy crime dramas like A Guide to Recognizing Your Saints, The Son of No One, and Empire State. But it seems to work, thanks in a huge part to Williams. Nolan isn't an outwardly emotional sort, but Williams manages to convey his deep loneliness in subtle ways.
For those keeping count, this is Williams second-to-last role. He still has one more coming up in the Terry Jones comedy Absolutely Anything, but he doesn't actually appear in that one — he voices a dog who hangs out with Simon Pegg.
Boulevard gets a limited release starting July 17. Here's a summary of the film in Tribeca:
Dito Montiel (The Son of No One) takes a refreshing direction with his latest film, Boulevard, a subtle and moving drama following a devoted husband and dutiful bank employee who begins to confront his own secrets. What starts as an aimless drive down an unfamiliar street turns into a life-altering decision for the curious Nolan Mack (Robin Williams). For many years, Nolan and his wife Joy (Kathy Baker) have embraced their marriage as a convenient distraction from facing reality. When he meets a troubled young man named Leo (Roberto Aguire) on his drive home, Nolan finds himself breaking from the confines of his old life. Robin Williams gives an adept performance as the enlightened but unraveling Nolan. Montiel's seasoned direction builds just the right amount of tension between the players and their now questionable relationships.