'Turbo Kid' Trailer And Poster: Sundance Mad Max-Inspired Crowdpleaser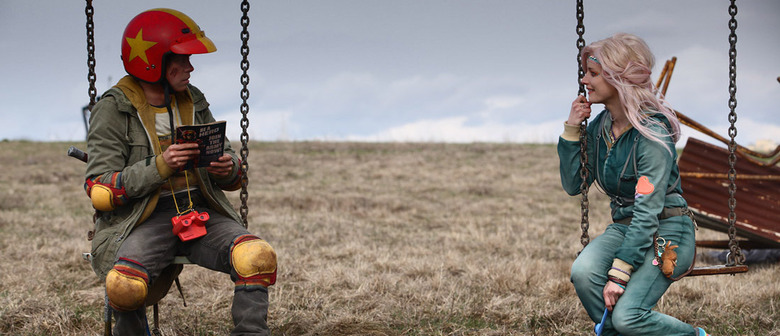 Epic Pictures Group has released a new poster for Turbo Kid, the Mad Max-inspired Sundance crowdpleaser. Hit the jump to see the Turbo Kid poster, as well as the previously released Turbo Kid trailer.
The Turbo Kid poster was found via Shock:
Angie Han's original story from June 17th 2015 follows:
Hot on the heels of Mad Max: Fury Road, here comes a different Mad Max-inspired adventure. Epic Pictures Group has set a summer release date for Turbo Kid, a Sundance Film Festival crowdpleaser that looks tailor-made for fans of '80s action. And to get the word out, they've released a colorful new full-length trailer as well. Check out the new Turbo Kid trailer, and get release details, after the jump.
Epic Pictures Group has announced it will put Turbo Kid in theaters and on VOD August 28, bringing a jolt of energy to an otherwise sleepy weekend. Other films opening that weekend include the EDM drama We Are Your Friends starring Zac Efron, and Alejandro Amenábar's thriller Regression starring Ethan Hawke and Emma Watson.
Directed by Anouk Whissell, François Simard, and Yoann-Karl Whissell, Turbo Kid is a coming-of-age tale unfolding in a post-apocalyptic, retro-futuristic 1997. An orphaned kid (Munro Chambers) sets out across the Wasteland on his BMX bike out to look for his best friend (Laurence Leboeuf) after she's kidnapped by an evil warlord (Michael Ironside).
Peter caught the film at Sundance and was quite taken with it. Here's an excerpt from his review, which is actually quoted in the trailer:
Turbo Kid is insane. It's remarkable that a film like this was produced at all. Imagine what a movie might look like if it came from the mind of a ten-year old kid from the '80s who is obsessed with Mega Man, and who just saw the Mad Max movies for the first time. Take a step further, and picture the film, if it was produced by a competent team of filmmakers with a budget affording that kid access to a good team to create practice special effects and makeup.
And finally, here's the new Turbo Kid trailer. If violence, gore, and nostalgia trips are a turnoff, this might not be for you, but for everyone else it looks like a weird, wild ride.