Cool Stuff: Life-Size Ant-Man Comic Con Exclusive Figure Is Smaller Than A Penny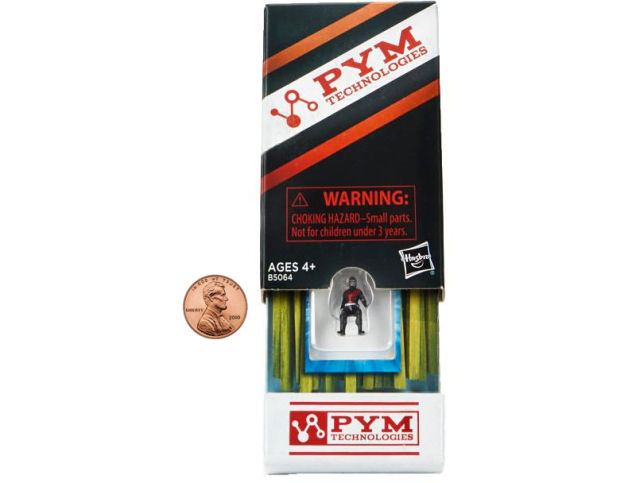 Hasbro has announced the tiniest San Diego Comic Con exclusive for Marvel's tiniest hero. The toy company will be releasing a Comic Con exclusive limited edition Ant-Man figure, but the catch is the future will be almost life size: Thats right, the Ant-Man figure will be a 0.75-inch figure, or as Hasbo puts it "smaller than a penny (or a really big ant)". Find out about this tiny SDCC exclusive as well as a much bigger Ant-Man Comic Con exclusive, after the jump.
The tiny figure is a cool collectible but would you really pay $9.99 for this tiny Ant-Man figure?
If you've taken more than a few seconds to consider this proposition you might be out of luck anyways as fans at Comic Con wait hours in line before the convention floor opens every morning in hopes of overpaying for such a con exclusive. But if you're not going to San Diego, you might still have a chance if your mouse clicking skills are quick enough, as a limited number of the action figures will be available after the convention on Hasbro's website HasbroToyShop.com.
But thats not all, Hasbro will also be releasing a deluxe Ant-Man package that includes five different versions of the superhero: a 12-inch Giant Man, a 6-inch Goliath, a 3.75-inch Hank Pym (with a lab coat and swappable heads), a 1.5-inch Scott Lang/Ant-Man, and a 1-inch Hank Pym/Ant-Man. The figures will come packaged inside a San Diego Comic Con exclusive cardboard helmet with swiveling antennae. The limited edition con exclusive set will run you $64.99 if you can get it.
The images above premiered on Yahoo (which we found via toy land who added the penny for size perspective). San Diego Comic-con International runs from July 8-12.