Starz Greenlights 'American Gods' TV Series From Bryan Fuller And Michael Green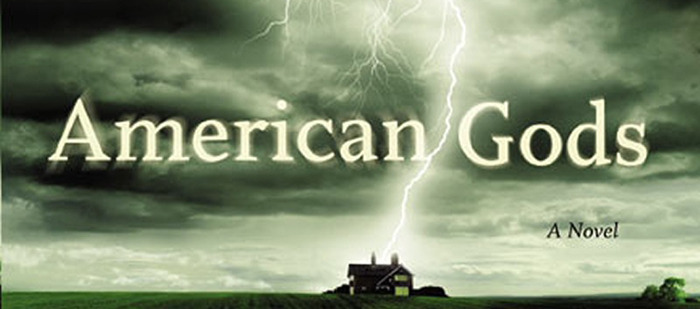 The Neil Gaiman novel American Gods, about an ex-con named Shadow who, thanks to a powerful and mysterious old man, is drawn into a conflict between gods old and new, has been in development for TV for a long time. Now the American Gods TV series is really going to be a thing, as Starz has given the green light to a series from showrunners Bryan Fuller and Michael Green.
There's no cast announcement yet; in fact, the official press release talks about the beginning of the process of casting Shadow, noting that the beginning of production on the series is tied to that casting.
Can this show be as big and weird as Hannibal? We can hope. It doesn't have the immediate recognizance of Hannibal, but Starz seems interested in making a splash with new series such as Ash vs Evil Dead, and we're hoping that Fuller and Green have the freedom to make this one wild.
For those unfamiliar with the story, the novel's plot goes like this, via a blurb from Starz that reveals a thing that the book keeps only very slightly secret until partway through:
A war is brewing between old and new gods: the traditional gods of biblical and mythological roots from around the world steadily losing believers to an upstart pantheon of gods reflecting society's modern love of money, technology, media, celebrity and drugs. Its protagonist, Shadow Moon, is an ex-con who becomes bodyguard and traveling partner to Mr. Wednesday, a conman but in reality one of the older gods, on a cross-country mission to gather his forces in preparation to battle the new deities.
American Gods was once in development for HBO, and Gaiman wrote a pilot script that featured a lot of material he did not use in the original novel. That new material was actually a sticking point for HBO. Freemantle Media picked up the rights last year, but we don't know if this series will incorporate that material Gaiman created for the HBO incarnation.
Here's the rest of the press release, with happy quotes from all involved:
Beverly Hills, Calif. – June 16, 2015 – Starz has given a greenlight to FremantleMedia North America's (FMNA) adaptation of Neil Gaiman's acclaimed contemporary fantasy novel American Gods. Bryan Fuller ("Hannibal," "Pushing Daisies," "Heroes") and Michael Green ("The River," "Kings," "Heroes"), will pen and showrun the series. Gaiman will also executive produce the series. FremantleMedia North America will produce. Start of production is dependent on casting the lead role of "Shadow Moon."Starz CEO Chris Albrecht said, "STARZ is committed to bring American Gods to its legions of fans. With our partners at FremantleMedia and with Bryan, Michael and Neil guiding the project, we hope to create a series that honors the book and does right by the fans, who have been casting it in their minds for years. The search for Shadow begins today!"Commented Neil Gaiman, "I am thrilled, scared, delighted, nervous and a ball of glorious anticipation. The team that is going to bring the world of American Gods to the screen has been assembled like the master criminals in a caper movie: I'm relieved and confident that my baby is in good hands. Now we finally move to the exciting business that fans have been doing for the last dozen years: casting our Shadow, our Wednesday, our Laura..."Commented Bryan Fuller and Michael Green, "Almost 15 years ago, Neil Gaiman filled a toy box with gods and magic and we are thrilled to finally crack it open and play. We're grateful to have STARZ above us and FremantleMedia at our backs as we appease the gods, American or otherwise."Craig Cegielski, Co-CEO, FremantleMedia North America said "'American Gods' has been the passion project for us at FMNA since Stefanie Berk brought this exceptional piece of literature to the company when she joined two years ago. Chris, Carmi and the entire team at Starz are committed partners, sharing the same creative vision and ambition for this series. Neil's novel is a brilliant work of art, and together with the talented Bryan Fuller and Michael Green, we are committed to delivering a series that is nothing short of extraordinary."