Star Wars Video Game Trailers: Battlefront And Disney Infinity's Rise Against The Empire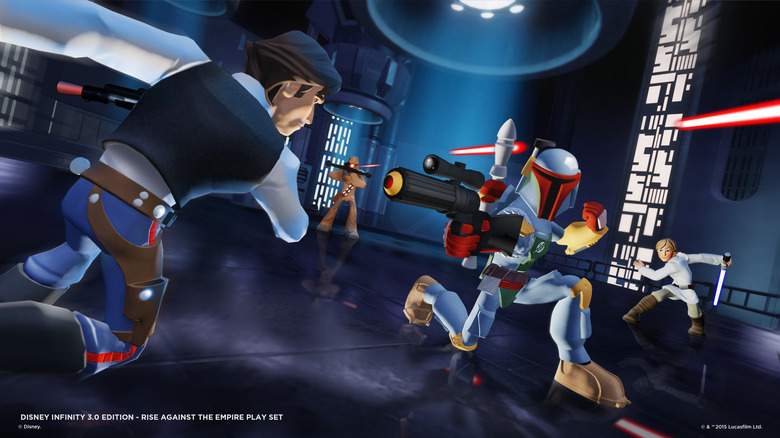 The following report comes from our video game writer Jon Christensen:
With E3 Expo 2015 happening this week in Los Angeles, a lot of Star Wars video game news has been unleashed upon us. Yesterday we wrote about the new digital collectible card game Star Wars: Galaxy Of Heroes, a Star Wars: Battlefront trailer showing 5 minutes of assault on both gameplay footage and a first look at Star Wars: The Old Republic—Knights of the Fallen Empire.  Today we have even more, Disney Infinity 3.0 has released the Star Wars: Rise Against The Empire trailer showcasing the second playset in the upcoming line, which features the reveal that infamous bounty hunter Boba Fett will be included in the new set. Also EA has released another Star Wars Battlefront video, this time a Co-Op Missions Gameplay Reveal featuring "Survival Mode" on Tatooine. Watch both videos embedded after the jump.
Disney Infinity 3.0's Star Wars: Rise Against The Empire Trailer
The Star Wars: Rise Against The Empire trailer reveals that Boba Fett, the most feared Bounty Hunter in the Galaxy who will be included in the game. The trailer shows off vehicles, locations and characters from the Original Trilogy, which includes Luke Skywalker, Princess Leia, Han Solo and Darth Vader.
Rise Against The Empire is one of three playsets that will be coming to Disney Infinity. The first announced Star Warts playset is Twilight Of The Republic, which will launch with Disney Infinity 3.0 and feature characters from the Prequel Tilogy and Star Wars: The Clone Wars. The third playset has yet to be revealed but will be based on Star Wars: The Force Awakens and will release alongside the film in Winter 2015.
Star Wars Battlefront Co-Op Missions Gameplay "Survival Mode" on Tatooine
"It's all about Survival, kid." Star Wars: Battlefront Survival Missions allows players to "take on waves of increasingly difficult Imperial forces – solo or with a Rebel friend by your side." The above video gives us a look at the "intense gameplay of Survival in the deserts of Tatooine" Here is some official information:
Survival is one of several Mission types in Star Wars Battlefront. As a rebel soldier, your task is to stay alive against increasingly difficult waves of Imperial forces. There are 15 waves in total and in each wave, players will face off against Stormtroopers, AT-STs, and anything in between.
If you want to clear all 15 waves the Force must surely be with you – along with your wits and weapons. Learn to recognise and adapt to the different kinds of enemies. Dodge the long-distance fire of the Scouttroopers and keep your eyes open to spot incoming TIE Fighters and the optical camouflage-wearing Shadowtroopers. Lose the lives you start out with and you're out.
Survival can be played on all the planets in Star Wars Battlefront including Endor, Hoth, Sullust and Tatooine, and the maps have been specially designed with this Mission type in mind. Learn the environments and keep your eyes peeled; extra lives and Drop Pods with powerups will appear regularly. Grabbing this loot can tip the odds of surviving in your favour.
If you play Survival on your own the experience will be great, but taking on the Empire together with a Rebel friend can be even greater. Available on PlayStation®4 and Xbox One, couch co-op via split-screen makes the tension and immersion of Survival amazing. You and your Rebel partner will use your respective strengths in the heat of battle and make quick strategic decisions as you prepare for the next wave, all from the comforts of your own couch. You can also take the co-op fight for survival online if you're playing on PC, PS4, and Xbox One.