Kenneth Branagh To Direct 'Murder On The Orient Express'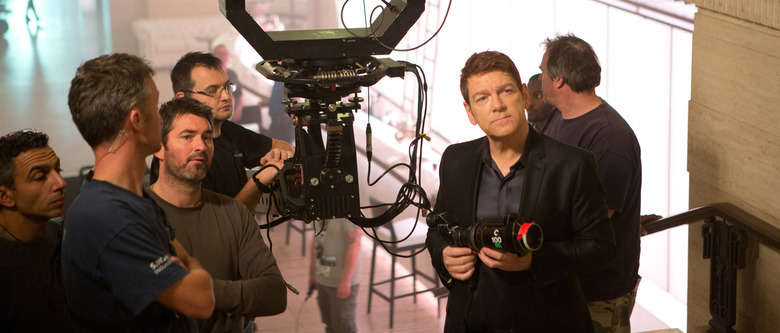 Fox's Murder on the Orient Express remake is slowly but surely chugging along, now with a new director. Kenneth Branagh is in talks to helm the new adaptation of the Agatha Christie classic, which is being produced by Ridley Scott. More details about the Kenneth Branagh Murder on the Orient Express news after the jump.
TheWrap got the scoop. Branagh is coming off of the massive success of Disney's Cinderella. Before that, he directed Jack Ryan: Shadow Recruit and Thor. But he remains in touch with his Shakespearean roots — he has a Macbeth project with Martin Scorsese in the works as well.
Once Branagh closes his deal for Murder on the Orient Express, he and the studio will aim to get an A-list cast on board. Murder on the Orient Express follows detective Hercule Poirot as he investigates the murder of an American business tycoon on a train.
Christie's 1934 tale has been adapted for the screen multiple times, most famously by Sidney Lumet in 1974. That version stared Albert Finney as the famed detective and Lauren Bacall, Ingrid Bergman, Jacqueline Bisset, Sean Connery, Anthony Perkins, and Vanessa Redgrave as some of the suspects. It was a huge commercial and critical success, earning six Oscar nominations including a Best Supporting Actress win for Bergman.
More recently, the story has also been adapted as a 2001 made-for-TV movie starring Alfred Molina, and as a 2010 episode of the British TV show Agatha Christie's Poirot.
The new Murder on the Orient Express movie first got going in late 2013, with a trio of big-name producers: Scott, Simon Kinberg (The Martian), and Mark Gordon (Steve Jobs). It went quiet for a while after that, but then started gaining momentum again earlier this year as Michael Green was hired to write the screenplay.
Green scripted Scott's Blade Runner 2, and was one of several writers to contribute to Green Lantern. He has extensive TV experience, having worked on The River, Kings, Heroes, Everwood, and Smallville.