'Star Wars Galaxy Of Heroes' Announced At E3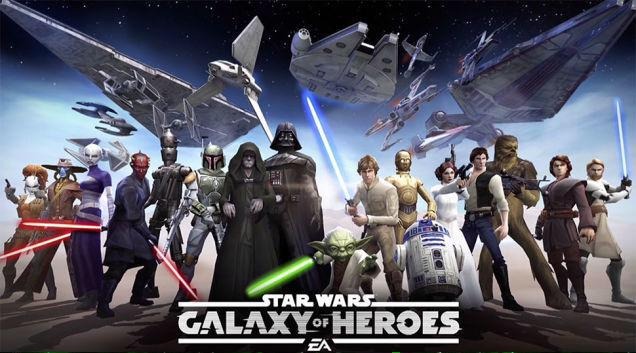 At E3 2015, Electronic Arts announced a new Star Wars video game called Star Wars Galaxy Of Heroes. The new mobile CCG Role Playing Game experience Star Wars: Galaxy Of Heroes sounds like EA's attempt to cash in on the success of Blizzard Entertainment's highly popular Hearthstone game. Learn more about Star Wars: Galaxy Of Heroes after the jump.
Star Wars Galaxy Of Heroes Details

Here is what EA has officially released about Star Wars: Galaxy Of Heroes:
When we set out to make STAR WARS: GALAXY OF HEROES, we wanted to tap into the fantasy of collecting characters and starfighters and then let people enjoy the fun of playing with them creatively. We're bringing this idea to life by allowing players to take part in battles with collections of their favorite heroes, characters, and ships from across the Star Wars™ universe. From the classic trilogy and Star Wars Rebels™ and Star Wars™: The Clone Wars™ animated TV shows, to the prequels films and beyond, we're giving players a truly extensive Star Wars experience. We have a great partnership with the talented folks at Lucasfilm and Disney Interactive. It is that collaboration that has enabled us to deliver a unique mobile experience that brings the vastness of the epic Star Wars franchise into the palm of your hand, available later this year on the App Store and Google Play.
So yeah, it appears to be a collectible card game like Hearthstone or to put it in analogue perspective, a digital version of Magic: The Gathering but with Star Wars characters.
The cool thing is it sounds like the game will be expansive, brining in all sorts of characters, ships, places and storylines from all sectors of Star Wars canon. Of course, while not stated in the presentation, I'm willing to bet Star Wars: The Force Awakens and future Star Wars films including the Anthology movies like Star Wars: Rogue One will also be included as they release. There isn't any more information about the game at this time.
I have a ton of friends who are addicted to Topps' Star Wars digital trading card app, and I've resisted installing it on my phone for a couple of reasons:
First of all, it seems like a time and energy suck. I just don't have the time to add something like this to my life. I've seen my friends become obsessed about obtaining the latest limited edition card, losing them to their phone while we are hanging out.
And secondly because the digital trading cards do nothing for you but become part of your digital collection. I've said to countless friends, if the cards could be used in some sort of game, then it might be interesting. Star Wars: Galaxy Of Heroes seems to be the same kind of digital collection but with the real value of a card game.
I'm sure the game will be in the same vein as the Topps app and give you a daily allotment of credits to open blind packs of cards, as well as the ability to pay for more credits to open even more card packs in hopes of securing that special character card you've been searching for and hoping to add to your squad.