New 'Spectre' Featurette Goes Behind The Scenes Of The Day Of The Dead Opening Sequence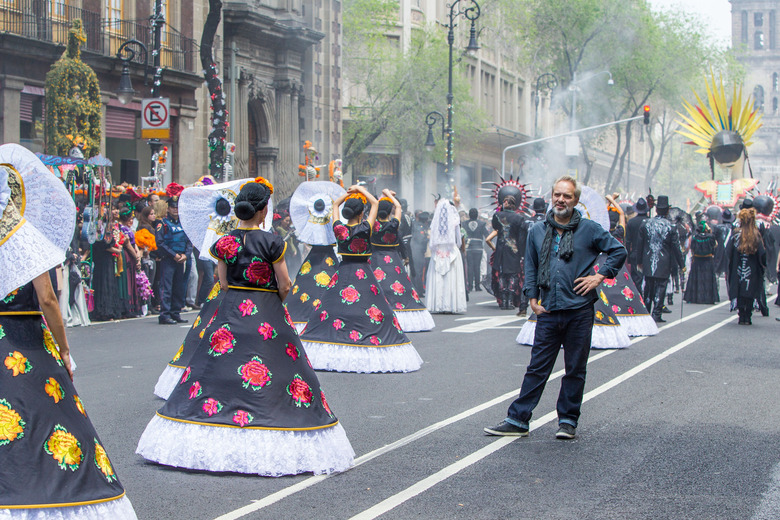 It's been over two years since the last Bond adventure, and we still have a few more months to wait until the next one. So in the meantime, here's a little peek behind the scenes of Spectre's opening sequence, set at a Day of the Dead festival in Mexico.
Director Sam Mendes and other break down the huge (but painstakingly detailed and impressively efficient) process of staging a massive celebration in Mexico City. Watch the Spectre Day of the Dead featurette after the jump. 
The Spectre Day of the Dead featurette went up on YouTube.
The latest SPECTRE vlog focuses on filming the opening sequence set during the Day of the Dead festival in Mexico City.
"I wanted the audience to be dropped right into the middle of a very, very specific, very heady, rich environment. It's the Day of the Dead, everywhere you look there's colour and detail and life. We've built floats and maquettes, the costumes are extraordinary and the craftsmanship is amazing," says Director Sam Mendes.
Daniel Craig's doesn't appear in the Spectre Day of the Dead featurette... or so it seems. Given how elaborately everyone is made up and costumed, we can't help but wonder if he might be hiding in the crowd somewhere.
Instead, costume designer Jamy Temime, costume supervisors Kenny Crouch and Anna Terrazas, crowd hair supervisor Tracey Smith, line producer Stacy Perskie, and makeup designer Naomi Donne all get their chance to weigh in on what one of them promises will be "the most visually exciting opening to a Bond movie ever." And to engage in some well-deserved bragging about costuming 1,500 extras in 75 minutes.
Spectre arrives in theaters November 6, 2015. Also starring are Ralph Fiennes, Naomie Harris, Ben Whishaw, Rory Kinnear, Andrew Scott, Monica Bellucci, Dave Bautista, Léa Seydoux, and Christoph Waltz.
A cryptic message from Bond's past sends him on a trail to uncover a sinister organization. While M battles political forces to keep the secret service alive, Bond peels back the layers of deceit to reveal the terrible truth behind SPECTRE.