Photos: Official Lego WALL-E Set Now Available For Pre-Order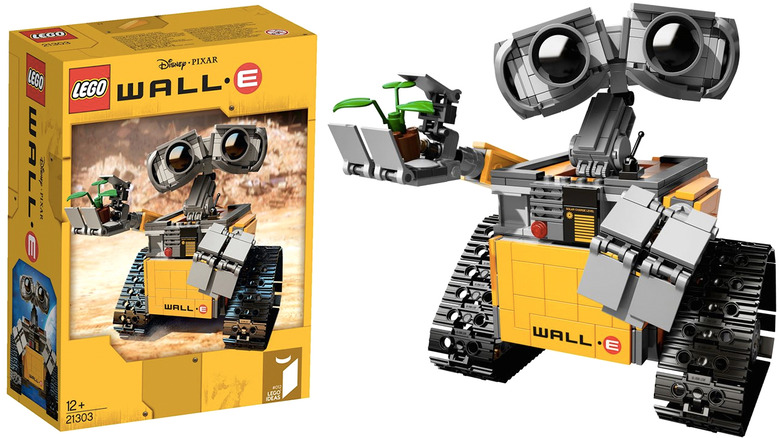 We may receive a commission on purchases made from links.
Update From Editor Peter Sciretta: The official LEGO WALL-E set is now available for pre-order. See photos and learn how to pre-order this lovable droid, after the jump.
The LEGO WALL-E set is available for pre-order now on Amazon for $59.99. The set is scheduled to be released on September 1st 2015. The WALL-E LEGO creation measures over 7" (18cm) high, 6" (16cm) long and 6" (16cm) wide, features movable arms which can move up and down and side to side and a trunk which can open and close. It comes with a booklet about the designer and the animated Pixar movie. Here is the official product description:
Build, display and role play with WALL-E! Construct the LEGO Ideas version of WALL-E with posable neck, adjustable head and arms, gripping hands, opening trunk and rolling tracks. Build a beautifully detailed LEGO version of WALL-E -the last robot left on Earth! Created by Angus MacLane, an animator and director at Pixar Animation Studios, and selected by LEGO Ideas members, the development of this model began alongside the making of the lovable animated character for the classic Pixar feature film. It has taken almost a decade to perfect the LEGO version, which incorporates many authentic WALL-E characteristics, including a posable neck, adjustable head, arms that move up and down and side to side, plus gripping hands and rolling tracks. With a trunk that opens and closes, you can tidy up the planet one pile of garbage at a time! This set also includes a booklet about the designer and the animated Pixar movie.
The original story from June 12th 2015 by Germain Lussier follows:
Earlier this year, Lego approved official sets based on a bunch of awesome properties: The Big Bang Theory, Doctor Who and WALL-E. Personally, that last one was the most exciting and now we have our first look at the set. There still are not any official specs but you can get a look at how beautiful this set turned out. See the official Lego WALL-E set images below.
Thanks to Smyths Toys, via The Brick Fan, for the images.
Lego Wall-E
According to the site, the Lego Wall-E will be out in December and cost about $40. That's not official yet but when official info comes out, we'll update.