'A Deadly Adoption' Trailer: Will Ferrell And Kristen Wiig Make A Lifetime Movie [UPDATED]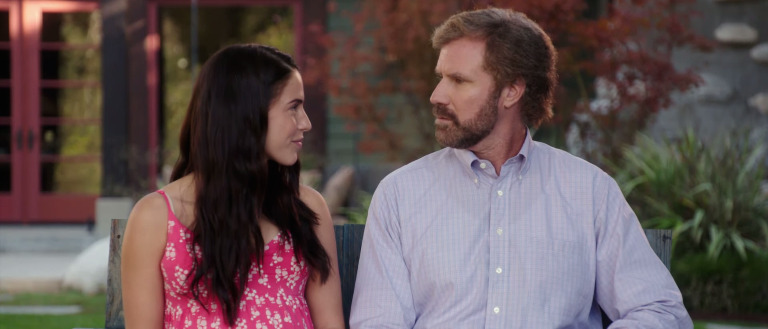 Will Ferrell and Kristen Wiig's Lifetime movie is really happening, as confirmed earlier this month, and now we have the first promo to prove it. Titled A Deadly Adoption, it looks at some of the horrible things that can go wrong when you decide to let a pregnant lady into your life and your home. Watch the A Deadly Adoption teaser trailer after the jump.UPDATE: A second, longer trailer for A Deadly Adoption has now been released. Check it out after the jump.
A Deadly Adoption is billed as a "high-stakes dramatic thriller," and Ferrell and Wiig look to be in serious mode here. Even so, the very idea of Ferrell and Wiig starring in a Lifetime movie is so ridiculous, it's hard not to laugh. Which is exactly as it should be, as A Deadly Adoption is intended to wink at the campy appeal of Lifetime's movies.
At the center of the story is a successful married couple (Ferrell and Wiig) who take in a pregnant woman (Jessica Lowndes) with intention of adopting her child once it's born. But as you can see in the teaser above, things get a little crazy. Andrew Steele (IFC's The Spoils of Babylon) wrote the script and Rachel Lee Goldberg (a veteran of Funny or Die, The Asylum, and Lifetime movies) directed.
News of Ferrell / Wiig Lifetime movie first broke in April. But almost as soon as the word got out, Ferrell claimed he'd decided to scrap his plans. "We are deeply disappointed that our planned top secret project was made public," he said in a statement at the time. "Kristen and I have decided it is in the best interest for everyone to forego the project entirely."
Then it turned out he was just faking us out. Last week, a billboard advertising A Deadly Adoption went up over Hollywood Boulevard. A Deadly Adoption is scheduled to air Saturday, June 20 as part of Lifetime's 25th anniversary celebration of its TV movie franchise.