'The Program' International Trailer: Stephen Frears' Lance Armstrong Biopic [UPDATED]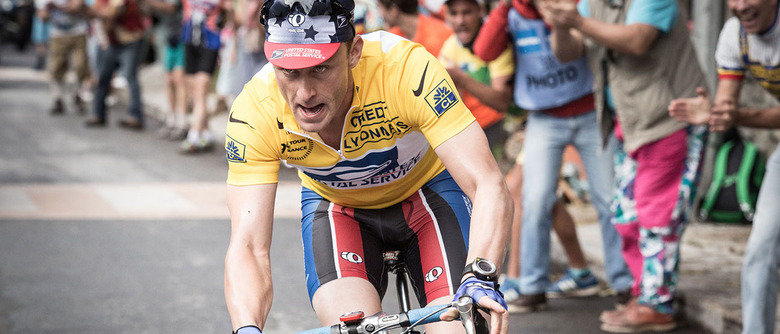 In the wake of the Lance Armstrong doping scandal, multiple parties were racing to adapt the story for the big screen. As of now, the winner is Stephen Frears with The Program. The first international trailer has hit today, nearly two years after we got our first look.
Ben Foster leads as the disgraced cyclist, and Chris O'Dowd is the journalist who begins to suspect Armstrong of cheating. Jesse Plemons, Lee Pace, and Dustin Hoffman also star. Watch the Lance Armstrong biopic trailer after the jump.
UPDATE: Studiocanal UK has just uploaded an English-language version of The Program trailer, with new footage. See it after the jump.
Studiocanal Germany unveiled the Lance Armstrong biopic trailer on YouTube. Unfortunately this one is all in German, but it'll give you an idea of the overall look and tone of the film.
We'll put up an English-language version as soon as one is available.
Update: Watch the English-language version with new footage below.
The Program is based on a nonfiction book by the real-life David Walsh, played by O'Dowd in the movie. John Hodge (Trainspotting) wrote the script.
The film opens October 8 in Germany, and will likely get a festival bow sometime before that. No U.S. release date has been set but we can probably expect that to change in the not-too-distant future. Here's the synopsis via Working Title Films:
The film charts the thrilling rise of pro-cyclist Lance Armstrong through the 90s and early 2000s, battling cancer, as he and his fellow American teammates dominate and change the quintessentially European sport of cycling. Winning the Tour de France an unprecedented seven times, Lance retires as one of the great sporting heroes of our time, and worth millions of dollars. David Walsh, sports writer, is at first charmed by Lance's charisma and talent. Seven Tours later, and ostracised by the cycling community for speaking out, he believes the world is being sold a lie. A lone voice, it is several years before Lance is exposed.