Ghostbusters Attraction Coming To Six Flags México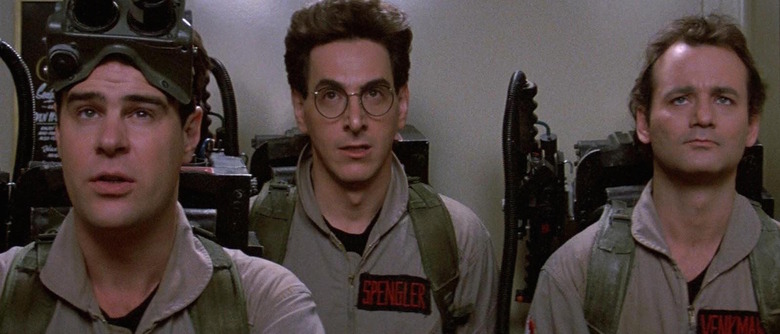 Aside from a special effects show in the '90s and a scrapped ride in the '80s, the Ghostbusters have mostly been absent from the theme park scene. But that changes this summer.
This week marks the soft launch of a Ghostbusters interactive attraction at Six Flags México. Called Los Cazafantasmas: La Aventura Láser — which translates to Ghostbusters: Laser Adventure — it's essentially Ghostbusters-themed laser tag. Read more about the Ghostbusters Six Flags attraction after the jump. 
Lynton V Harris and The Sudden Impact! Entertainment Company announced the new Six Flags Ghostbusters live experience via press release this week. The attraction entered previews this past weekend and will officially open in mid-July. The Ghostbusters attraction is not included in the regular theme park admission and will cost extra.
The Ghostbusters laser experience will be set up across two floors within the La Llorona building in Six Flags México. Six to eight live actors will play veteran Ghostbusters interacting with guests. Players arrive at the Ghostbusters Headquarters downstairs, where they're given instructions and "laser ghostbustin' gear" such as a proton pack.
The newly minted Ghostbusters (i.e., park visitors) are then guided upstairs, where they're split into competing teams. Visitors will be able to spread out across an environment featuring familiar settings and characters from the movie, not to mention "ghost gates, hidden targets, and 'surprise characters' that appear and disappear with the help of UV and lasertag LED technology."
Oddly, the press release wastes no time throwing Sudden Impact!'s previous laser attraction at Six Flags México, Terminator X, under the bus. "We probably could have eeked out another year with Terminator X given that the fifth movie comes out this summer, but I have been pestering Greg [Economos] at Sony for the past couple of years to get a Ghostbusters attraction happening," said Harris.
Sudden Impact!'s Dominic McChesney added, "[Th]his first preview weekend was a litmus test to determine if we got the brand fit right, and the audience have already confirmed that it is a much more fun approach than Terminator X which had more of a 'firm handed' approach, but enjoyed a successful four year run. Ghostbusters will be a hit!"
Ghostbusters laser tag isn't quite the same thing as a permanent Ghostbusters ride, and as of now there's (sadly) no mention of any plans to bring this attraction to the U.S. Still, it sounds like an inspired way to bring Ghostbusters into the theme park. For more information see the full press release at In Park Magazine.