Star Wars Bits: Han Shot First, Episode VIII & Rogue One Film Specs, Battlefront, Kylo Ren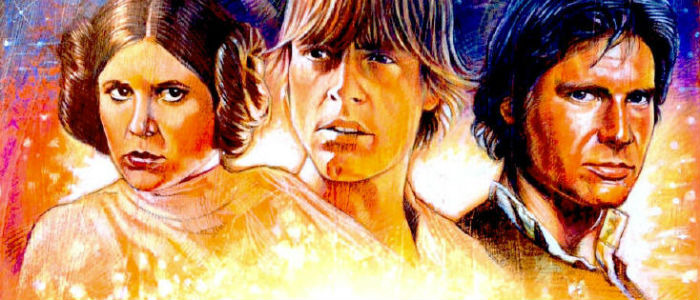 There's too much important stuff in this edition of Star Wars Bits to waste time. Read about the following:
Star Wars Episode VIII will shoot on 35mm film.
Star Wars Anthology: Rogue One will shoot partially with a 6K camera and new Panavision lenses.
Daisy Ridley drops a hint about Rey's lineage in Star Wars: The Force Awakens.
See the covers of three new Star Wars novels.
Jurassic World director Colin Trevorrow talks Star Wars films.
Anthony Daniels is voicing C-3PO in Star Wars Battlefront.
Find out about a never published Star Wars novel called "Heart of the Jedi."
Billie Lourd strikes down another Star Wars: The Force Awakens rumor.
Star Wars may once again film on Skellig Michael in Ireland.
Read an interview with the stunt double who played Kylo Ren.
Peter Mayhew definitively puts the "Han Shot First" debate to rest.
Though Episodes II and III were shot digitally, J.J. Abrams shot Star Wars: The Force Awakens on film to duplicate the look and feel of the original trilogy. That will continue with 2017's Star Wars Episode VIII. On Twitter, Rian Johnson answered a question about potentially shooting in 65mm and while he said they considered it, they would go with 35mm.
What about the Star Wars movie in the middle, Gareth Edwards' Star Wars Anthology: Rogue One? Well a few small tech things have been revealed about that too. While the movie is primarily shooting on film, the Hollywood Reporter says Director of Photography Greig Fraser will film some sequences with a brand new, 6K resolution Arri Alexa 65 camera. Also, another article on the site says the DP will be using some of the brand new, 70mm lenses Panavision created for Quentin Tarantino. Whether or not this suggests Rogue One is shooting wholly in 65mm, Lucasfilm has not returned our request for comment.
One of the big questions about Star Wars The Force Awakens is what, if any, connection the new characters have to the old ones. How do Rey, Finn, Poe, and Kylo fit in with Luke, Han, Leia and more? Are they their kids? We don't know. But in an interview, Daisy Ridley dropped a very interesting quote that may have hinted at her lineage. There's nothing specific here, but even the implications could be considered a minor spoiler so highlight to read her quote. Thanks to MSW.
I'm not sure how much I can say. I guess because I've said that I'm solitary, and that's how I begin, that is probably a big clue as to what... (Kathleen Kennedy nervously chuckles)...it is.
Disney will be releasing new book versions of the original Star Wars films and they revealed the covers on their official site. Each will attempt to tell those stories from a new, more personal way. Read more about them at this link.
With connections to Steven Spielberg, Amblin and Kathleen Kennedy, Jurassic World director Colin Trevorrow would seem like a logical choice to do a Star Wars movie. Would he be interested? He talked to MTV about it.
Another major piece of the Star Wars puzzle has been added to Star Wars Battlefront. Anthony Daniels confirmed that he's providing the voice of C-3PO in the movie
One day it's the hilarious YODA CHRONICLES: the next, the astounding BATTLEFRONT! (Just the ying and yang of being C-3PO at the microphone).

— Anthony Daniels (@ADaniels3PO) June 5, 2015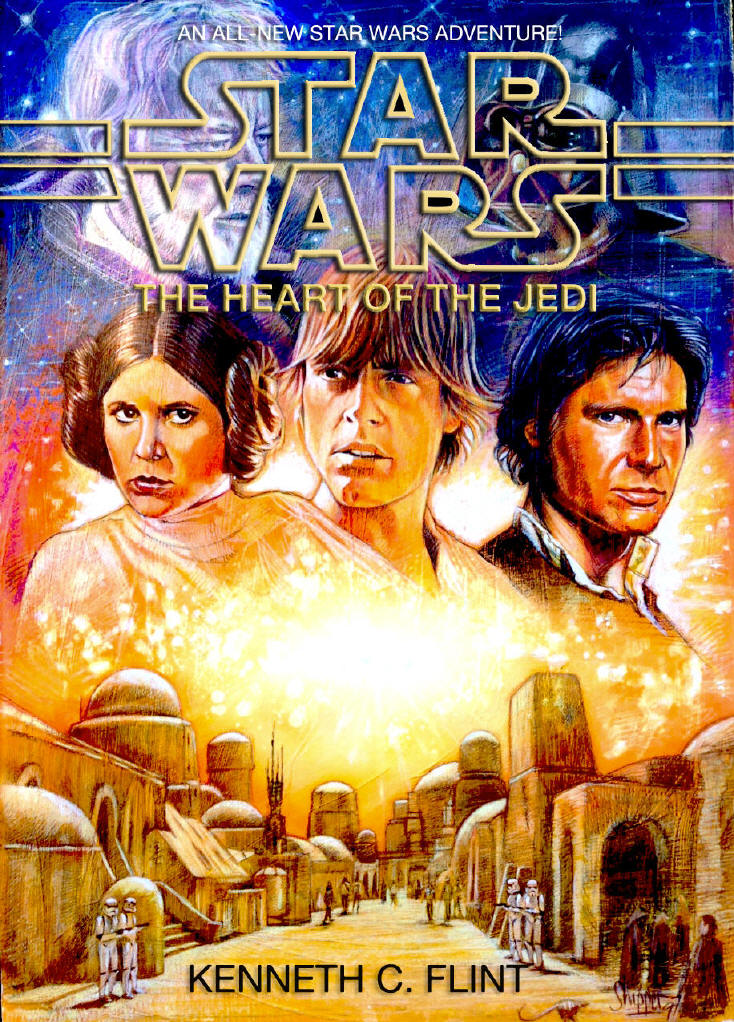 Star Wars Timeline (via SW Underworld) has a fascinating piece about a never-published Star Wars Legends novel called Heart of the Jedi. It was written by Kenneth C. Flint and they are posting the entire thing a few chapters at a time. Head to those links to read both the novel itself and reason why it never got published. Very interesting stuff.
Billie Lourd, daughter of Carrie Fisher, does have a role in Star Wars: The Force Awakens. Two rumors of who she'll play are Leia's daughter and or Leia herself, in a flashback. She's denied the latter and now, talking to The Wrap, she denied the former too.
The Irish Times is reporting Star Wars production will return to the island of Skellig Michael in the Fall. Could this be for reshoots on The Force Awakens, something for Rogue One or even Episode VIII? They don't know and no one is confirming, but it's a curious happening.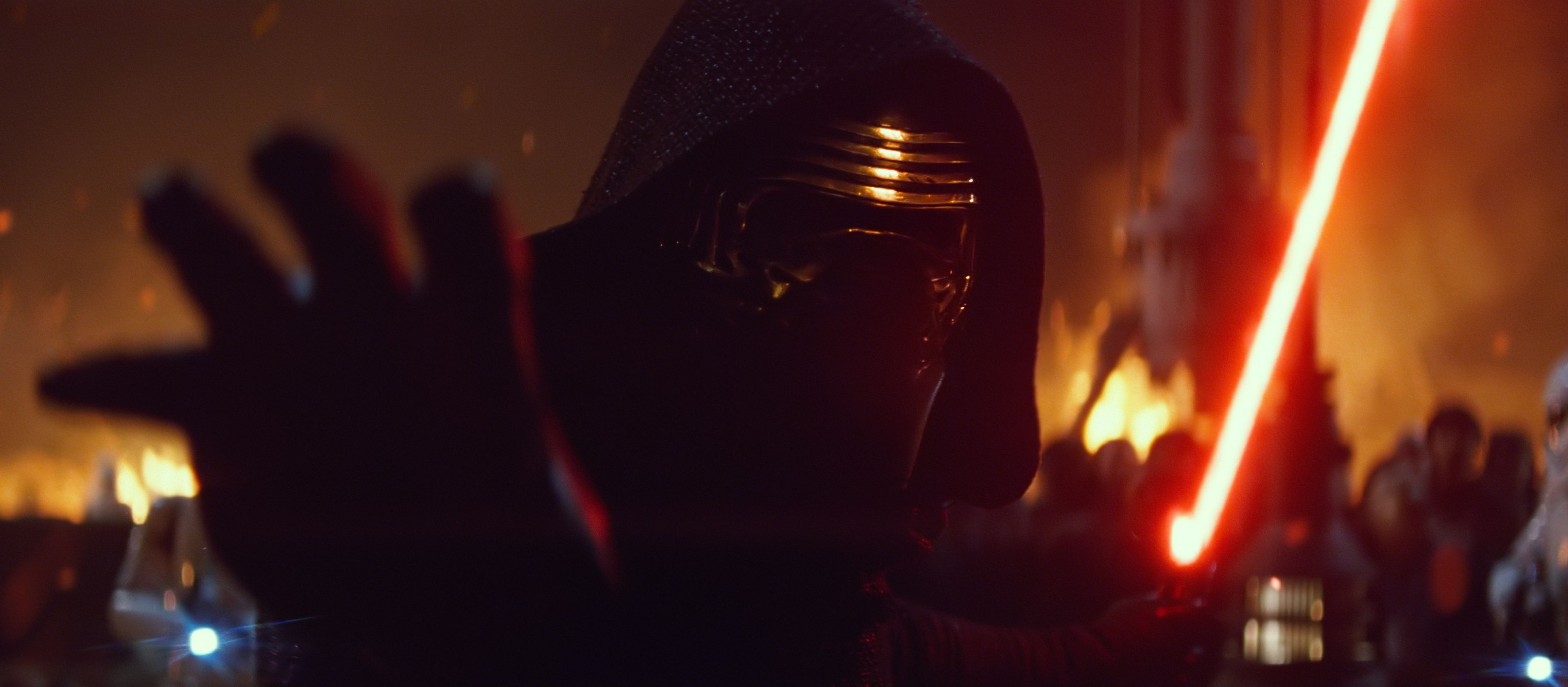 There's not a lot of detail here, obviously, but Index.hu (translated to English on SW 7 News) interviewed 26-year-old Hungarian Toth Gyula who is Adam Driver's stunt person in Star Wars: The Force Awakens. He has some cool, albeit it unspecific, thoughts on different lightsabers, fighting style, set security and more. It's a good read.
Finally – for some reason, the "Who shot first?" thing is still a debate. Han Solo shot first. We've all seen the original movie. But then, in 1997, George Lucas changed that in the Special Editions. He even came out and said his original intent was for it to be more mix. Well, now we know he was lying. Peter Mayhew himself – better known as Chewbacca – posted the below image on his Facebook. It's from a very early version of the script when Greedo wasn't even named Greedo.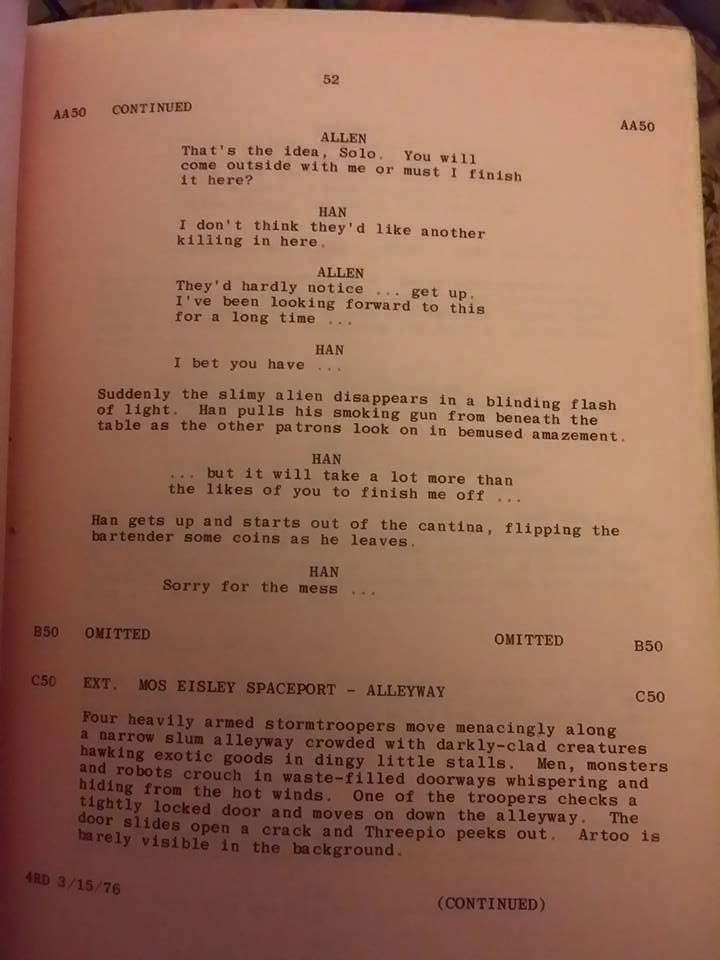 Case closed.