'Degrassi' Joins Long List Of Shows Un-Cancelled By Netflix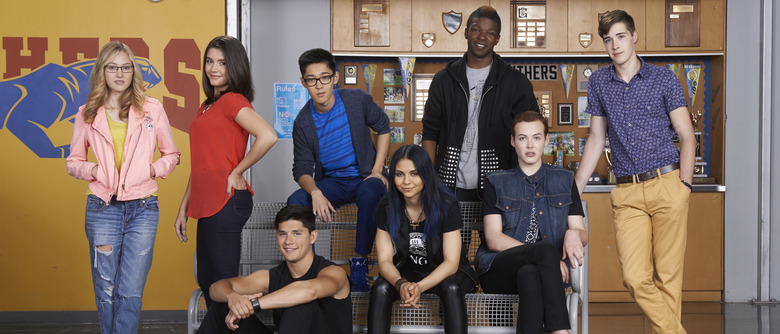 Back in olden times, a cancelled show's best shot at salvation was another network — and if none of them wanted the show, it was just screwed. With the proliferation of streaming services hungry for original content, though, we've seen more and more series get axed by traditional broadcast or cable networks, only to find a second life online.
Case in point: Canadian teen drama Degrassi has become the latest show to get un-cancelled by Netflix, after getting the axe from TeenNick last week. More on the Netflix Degrassi resurrection after the jump. 
Netflix announced on Twitter that the next season of Degrassi, now titled Degrassi: Next Class, will hit the streaming service next year. Actors confirmed to return include Eric Osborne, Ana Golja, Andre Kim, Richard Walters, Olivia Scriven, Ricardo Hoyos, Nikki Gould, and Lyle Lettau.
Degrassi graduates to Netflix. Meet the Next Class, coming in 2016 pic.twitter.com/FhUZJ3ZiiL

— Netflix (@netflix) June 9, 2015
Formerly titled Degrassi: The Next Generation, Degrassi finishes its fourteenth season this summer. That's impressive enough as it is, but Degrassi is actually the fourth series in a larger franchise that stretches back to 1980. In a press release, Netflix promised Degrassi: New Class would be the same Degrassi fans known and love:
Keeping true to the spirit of the Degrassi franchise, which generations have known and loved since 1980, Degrassi: Next Class is a pull-no-punches dramatic series that tackles the real-life issues of high school students. Telling the stories of "Generation Z," the series focuses on a group of teens as they begin their journey into adulthood. Pushing their own limits and testing the bonds of family and friends, the students each find their own way to deal with a range of issues: from homophobia, racism, substance abuse and violence to burgeoning sexuality, body issues, heartbreak and the complications of dating in the social media age. The series strives to entertain its post-millennial audience while always reinforcing its core principle: You are not alone.
In the U.S., Degrassi may be best known for launching the career of rapper Drake, as well as Vampire Diaries star Nina Dobrev.
Degrassi: New Class joins Netflix's growing slate of revived shows. Arrested Development Season 4 was one of the company's first forays into original programming, and since then it's also brought back The Killing (twice) and Longmire. Other streaming services are getting into the game, too, with Hulu picking up The Mindy Project and Yahoo grabbing Community.
All of those shows were originally cancelled due to poor ratings. Since Netflix and others are reluctant to release viewership numbers we don't know for sure if they've become any more popular online. But those kind of figures matter less to streaming services than viewer devotion, and the other thing the shows have in common is their ability to command a devoted audience.