'Regression' Trailer: Emma Watson And Ethan Hawke Might Be Haunted By Satanists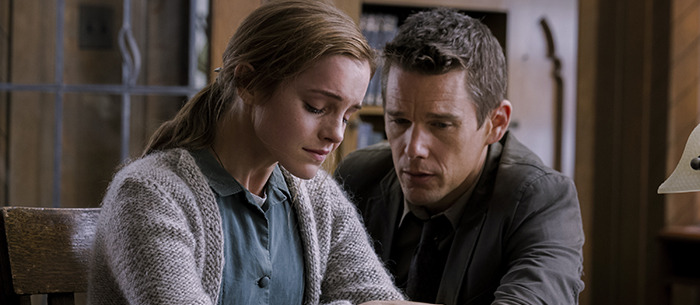 Alejandro Amenábar (The Others) returns this summer with Regression, his first feature in six years. Emma Watson stars as a young woman who accuses her father (David Dencik) of a crime, and Ethan Hawke is the detective assigned to the case.
The dad claims not to remember the incident, so a psychologist (David Thewlis) is brought in to help him recover his memories. As they dig deeper into the mystery of what happened, the cop discovers that the case may be much more complicated and more horrific than they had initially suspected. Watch the Regression trailer after the jump. 
Here's the Regression trailer via YouTube.
It's worth pointing out that Regression is set in 1990, when the Satanic ritual abuse panic was at its peak in the U.S. The trailer pretty deliberately dances around the question of whether Watson and Hawke's characters really are being targeted by powerful Satanists, or whether it's just a theory concocted to deal with something else.
Amenábar's last couple of films were Agora and The Sea Inside, but before that he gained international acclaim directing eerie thrillers like Open Your Eyes (remade by Cameron Crowe as Vanilla Sky) and The Others. Regression brings him back to mystery territory, with what look like exciting results.
It also looks like another strong showcase for Watson, who's managed her transition out of the Harry Potter films about as gracefully as we could expect. She's been mixing it up with everything from R-rated comedy (This Is the End) to Biblical epic (Noah) to ripped-from-the-headlines satire (The Bling Ring) to earnest YA (The Perks of Being a Wallflower).
Regression arrives in theaters August 28, 2015. Dale Dickey and Devon Bostick also star.
Minnesota, 1990. Detective Bruce Kenner (Ethan Hawke) investigates the case of young Angela (Emma Watson), who accuses her father, John Gray (David Dencik), of an unspeakable crime. When John unexpectedly and without recollection admits guilt, renowned psychologist Dr. Raines (David Thewlis) is brought in to help him relive his memories and what they discover unmasks a horrifying nationwide mystery.