Sequel Bits: 'Jurassic World', 'Hunger Games: Mockingjay', 'Teenage Mutant Ninja Turtles 2', 'Goon 2'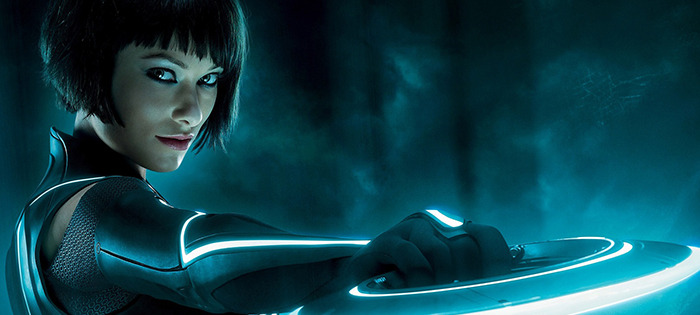 Today we have updates on a sequel that definitely isn't happening, and several more that definitely are. After the jump:
Olivia Wilde responds to Tron 3 cancellation
TMNT2 will give away a role for charity
The 50 Shades stars aren't set for a spinoff
Elisha Cuthbert joins the Goon sequel
Jurassic World gets biggest IMAX release ever
See Peeta and Gale in new Mockingjay pics
Peek behind the scenes of Barbershop 3
ATL star confirms a sequel is in the works
Tron fans are pretty broken up about Disney's recent decision to scrap Tron 3, but actress Olivia Wilde has found the silver lining:
Tron fans! Don't trip. Now I don't have to live on seaweed juice and tofu dust for 6 months to fit into a rubber suit. 🍝🍻😎

— olivia wilde (@oliviawilde) June 2, 2015
Well. Silver lining for her, anyway. She may be relieved she gets to eat solid food and wear clothes made of breathable fabric, and understandably so, but that probably won't be of much comfort to the 36,000+ fans who are petitioning Disney to resurrect Tron 3. [Twitter]
The half-shell heroes are engaging in a bit of real-life heroism. Teenage Mutant Ninja Turtles 2 is partnering with Omaze to offer fans a chance to win a walk-on role in the upcoming sequel. Raffle entries start at $10 and all proceeds go to the Giving Back Fund, which provides philanthropic consulting for celebrities. Teenage Mutant Ninja Turtles 2 opens June 3, 2016. [THR]
Last week E.L. James announced the impending publication of Grey, a Fifty Shades spinoff from Christian's perspective. For Universal, Grey offers an opportunity to extend the Fifty Shades film franchise. But the catch is, neither Dakota Johnson nor Jamie Dornan are contracted for a spinoff. If Universal decides to move forward with Grey, it'll have to renegotiate or recast. [THR]
Elisha Cuthbert has boarded Goon: The Last of the Enforcers, joining returning stars Seann William Scott, Jay Baruchel, Liev Schreiber, and Alison Pill. She'll play Pill's sister, described as an "outlandish" type. Baruchel is directing the sports sequel which begins shooting later this month. [THR]
Jurassic World is headed for the biggest IMAX release ever. The sci-fi adventure will roll out in 445 international screens starting Wednesday, June 10, followed by another 364 domestic screens starting Friday, June 12. That makes Jurassic World the widest ever global day-and-date release for the exhibitor, beating previous record-holder The Amazing Spider-Man 2 by over 100 screens. [THR]
Katniss' two BFFs get deadly serious in two new stills from The Hunger Games: Mockingjay – Part 2. The context isn't completely clear, but it looks like Peeta (Josh Hutcherson) and Gale (Liam Hemsworth) are suited up (and, in Gale's case, armed) for battle.
The Hunger Games: Mockingjay – Part 2 wraps up the film franchise on November 20. [Twitter, Facebook]
Filming on Barbershop 3 is now underway, and star Ice Cube is offering fans a peek behind the scenes. The on-set video features Cedric the Entertainer, Nicki Minaj, Common, Eve, Regina Hall, Anthony Anderson, Lamorne Morris, and more.
The Barbershop first look is labeled "Episode 1," so keep an eye on Ice Cube's YouTube channel for more updates. Barbershop 3 lands February 19, 2016. [YouTube]
ATL could finally be headed for a sequel. This spring musician-turned-actor T.I. started hinting at a follow-up on Instagram, and now his co-star Lauren London has offered another update. "There has been movement," she said. "I think everybody has signed up to do it. But now it's a matter of handling the business side of it." [TheWrap]