POTD: Kevin Smith Finishes 'Yoga Hosers' [UPDATED WITH FIRST IMAGES]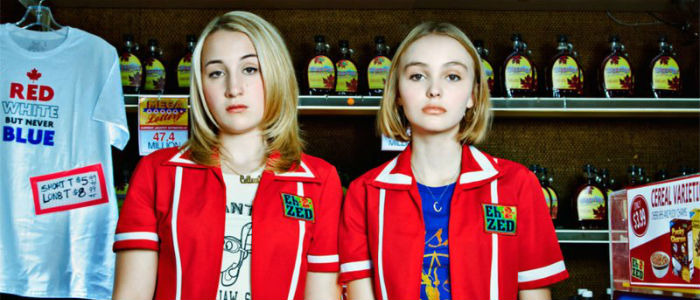 Cross a film off of Kevin Smith's long to-do list. The writer/director just completed Yoga Hosers, his teenage superhero/thriller starring Harley Quinn Smith (Smith's daughter) and Lily-Rose Depp (Johnny Depp's daughter). We know he's done because Smith tweeted about the status, and posted an image of the end credits, which tease that the characters will be back in Moose Jaws.
Below, check out the images and read more about Smith's upcoming work.
UPDATE: The first images from the film are now online. Check them out below.
UPDATE: Here are the first images from Yoga Hosers, via People.
Head there to read more about them, including some quotes about Johnny Depp's role. And I think that third photo is the key one. What are they looking at? What's the pink glow?
Original article follows
First up, Smith Tweeted this.
We finished @YogaHosers tonight. Just watched the complete flick on the big screen with all 95 VFX shots & full credits included. I love it!

— KevinSmith (@ThatKevinSmith) June 9, 2015
And there's this.
I love this so much. This is from the end credits of #YogaHosers. Get ready to face a monster moose, @harleyquinnnn_ & @lilyrose_depp!
A photo posted by Kevin Smith (@thatkevinsmith) on
Now that Yoga Hosers is done, when will we get to see it? Smith has confirmed he'll drop a trailer at Comic-Con during his annual panel. It'll also probably screen at the Toronto Film Festival, so that mirrors the release of Tusk. Tusk then hit Fantastic Fest before being released on September 19, 2014. Maybe something around those lines will happen.
Smith is currently writing Moose Jaws (a follow-up to Yoga Hosers, as seen in the above photo) but is expected to shoot Mallrats 2 first.
Yoga Hosers centers on Colleen Collette (Depp) and Colleen McKenzie (Smith), two teenage yoga fanatics who work at a Manitoba convenience store. They team up with legendary Montreal man-hunter Guy Lapointe (Johnny Depp) after "an ancient evil rises from beneath Canada's crust and threatens their big invitation to a Grade 12 party."The two Depps and the two Smiths are just a few of the familiar faces returning for Yoga Hosers. Also returning areMichael Parks, Justin Long, Haley Joel Osment, Genesis Rodriguez, Ralph Garman, and Harley Morenstein. New to the cast are Tony Hale, Natasha Lyonne, Austin Butler, Adam Brody, Tyler Posey, and Jason Mewes.Yoga Hosers is the second in what Smith's Canada-centric "True North" trilogy. The series kicked off with Tusk and will conclude with Moose Jaws.