'The Hunger Games: Mockingjay Part 2' Trailer: "Snow Has To Pay"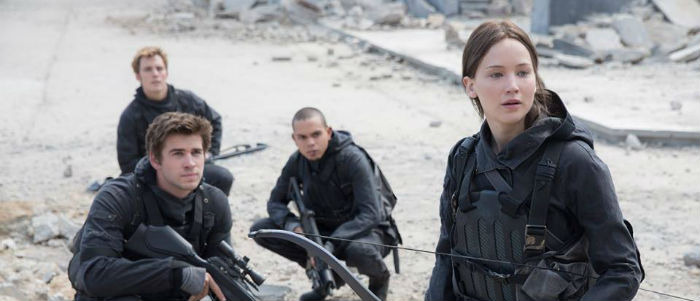 The Hunger Games: Mockingjay Part 2 trailer is here; it's your first look at the finale of one of the biggest franchises out there. Katniss (Jennifer Lawrence) will finally storm the Capitol to right the wrongs done by President Snow (Donald Sutherland) and everyone else who has created a world where kids kill each other for entertainment.
Directed by Francis Lawrence, the highly anticipated sequel opens November 20. Check out the Hunger Games Mockingjay Part 2 trailer below.
Here's the very epic trailer courtesy of Lionsgate.
Hunger Games Mockingjay Part 2 trailer
Definitely a very exciting trailer. Fans are going to eat it up and it's nice to see all of the character from across the franchise make brief cameos. In the book, the second half of Mockingjay is a pretty straightforward invasion/war story and this version definitely feels like it has more emotion and gravitas. Plus, the joke by Finnick about the invasion on the Capitol being the 76th Hunger Games is really spot on. The series kind of had to end with another epic battle in an enclosed space and it certainly seems like Lawrence is doing that.
Here's the official synopsis of The Hunger Games: Mockingjay – Part 2:
The blockbuster Hunger Games franchise has taken audiences by storm around the world, grossing more than $2.2 billion at the global box office. The Hunger Games: Mockingjay – Part 2 now brings the franchise to its powerful final chapter in which Katniss Everdeen [Jennifer Lawrence] realizes the stakes are no longer just for survival – they are for the future.With the nation of Panem in a full scale war, Katniss confronts President Snow [Donald Sutherland] in the final showdown. Teamed with a group of her closest friends – including Gale [Liam Hemsworth], Finnick [Sam Claflin] and Peeta [Josh Hutcherson] – Katniss goes off on a mission with the unit from District 13 as they risk their lives to liberate the citizens of Panem, and stage an assassination attempt on President Snow who has become increasingly obsessed with destroying her.  The mortal traps, enemies, and moral choices that await Katniss will challenge her more than any arena she faced in The Hunger Games.The Hunger Games: Mockingjay – Part 2 is directed by Francis Lawrence from a screenplay by Peter Craig and Danny Strong and features an acclaimed cast including Academy Award®-winner Jennifer Lawrence, Josh Hutcherson, Liam Hemsworth, Woody Harrelson, Elizabeth Banks, Academy Award®-winner Philip Seymour Hoffman, Jeffrey Wright, Willow Shields, Sam Claflin, Jena Malone with Stanley Tucci and Donald Sutherland reprising their original roles from The Hunger Games and The Hunger Games: Catching Fire. The impressive lineup is joined by The Hunger Games: Mockingjay – Part 1 co-stars Academy Award®-winner Julianne Moore, Mahershala Ali, Natalie Dormer, Wes Chatham, Elden Henson and Evan Ross.