'Coming Home' Trailer: Zhang Yimou Serves Up An Historical Romance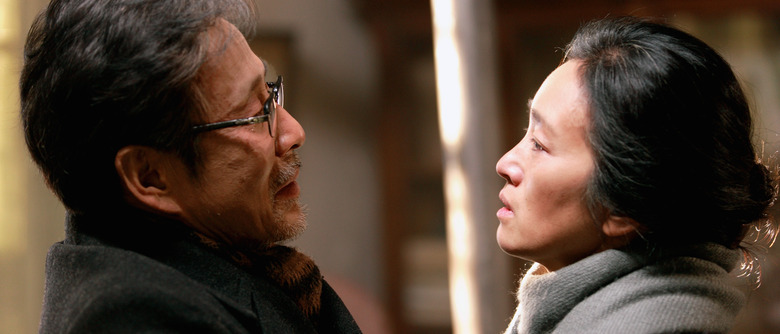 Sony Pictures Classics has unveiled the new trailer for Coming Home, the historical romance from director Zhang Yimou (Raise the Red Lantern, Hero). Based on the novel by Geling Yan, Coming Home centers on a married couple, Lu Yanshi (Chen Daoming) and Feng Wanyu (Gong Li), who are separated when the former is sent to a labor camp.
He returns years later to discover that she, having suffered a head injury, no longer recognizes him. Determined to get his life back, he sets out to resurrect his relationship with his wife. Newcomer Zhang Huiwen plays their daughter. Watch the Coming Home trailer after the jump.
[via YouTube]
Coming Home looks like a slow-burn heartbreak. The romantic amnesia plotline is something that seems to happen in the movies far more than it does in real life, but it seems to be done well here, grounded in believable performances. Coming Home is seems to be a political movie of sorts, in that it shows the way the Cultural Revolution and its aftereffects disrupted ordinary lives.
Coming Home debuted last year at Cannes, and has hit a dozen other festivals since then. Sony Pictures Classics finally has Coming Home in U.S. theaters September 9.
Lu Yanshi (Chen Daoming) and Feng Wanyu (Gong Li) are a devoted couple forced to separate when Lu is arrested and sent to a labor camp as a political prisoner, just as his wife is injured in an accident. Released during the last days of the Cultural Revolution, he finally returns home only to find that his beloved wife has amnesia and remembers little of her past. Unable to recognize Lu, she patiently waits for her husband's return. A stranger alone in the heart of his broken family, Lu Yanshi determines to resurrect their past together and reawaken his wife's memory.