Video: Disney World's 'The Great Movie Ride' Gets A New Ending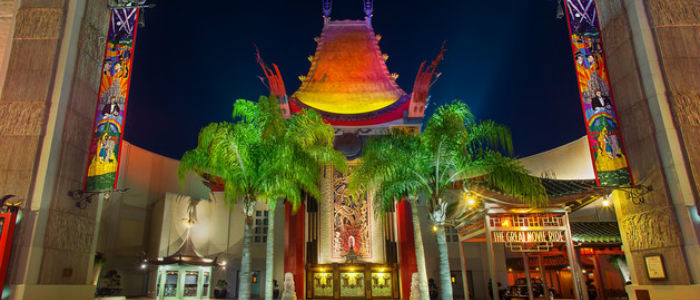 "The Great Movie Ride" is an outstanding name for a ride, isn't it? Located at Disney's Hollywood Studios in Orlando, Florida, which is part of Walt Disney World, the ride opened in 1989 and takes park attendees through the world of several popular movies. However, once you get on the ride, its age is obvious. The movies inside, while undeniable classic, feel very dated. So does the ride itself, which is more of a casual stroll than a "great movie ride." Still, it's a huge space with a lot of moving parts and upgrading something like that would be a long, expensive process.
That's why the ride ends with the sizzle reel to end all sizzle reels. A compilation of dozens and dozens of classic films, most of which are not represented in the ride. As recently as last month, the video showed movies from the late Nineties but now, Turner Classic Movies has taken over the ride. In doing so, they've added an even newer climax that stretches right up to today. Watch the Great Movie Ride update video below.
Inside the Magic got the info. Here's the video.
The Great Movie Ride Update Video
Here's the official write-up on the ride from Disney:
Stroll onto a soundstage designed to recall 1930s-era Hollywood and board a tram for a captivating tour of some of Tinseltown's greatest film scenes. Glide beneath a flashing movie marquee and cross over into a world that could only exist in the movies.Featuring nearly 50 lifelike Audio-Animatronics replicas of legendary movie stars, lavishly produced set pieces and wondrous special effects, The Great Movie Ride immerses you in the thrills, chills and romance of some of the most memorable moments in motion picture history.Be a part of such classic films as:
Alien 
Casablanca 
Fantasia 
Mary Poppins 
Raiders of the Lost Ark 
Singin' in the Rain 
Tarzan the Ape Man 
The Public Enemy 
The Wizard of Oz
Your informative tour guide will set the stage for the scenes you'll visit. Just don't be surprised if something unexpected happens along the way. Keep telling yourself, it's only a movie.