'Fantastic Beasts' May Reveal A U.S. School Of Witchcraft And Wizardry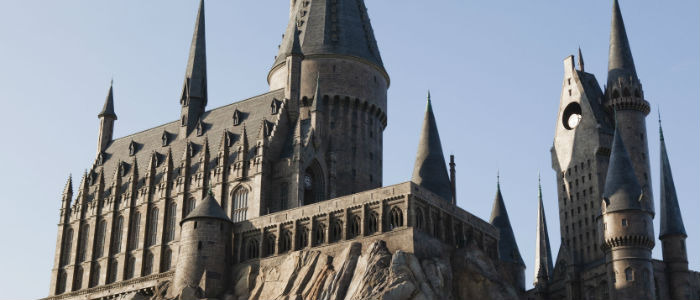 Everyone knows the best school for witchcraft and wizardry is Hogwarts, which is in England. But wizards aren't only in that country. As we saw in Harry Potter and the Goblet of Fire, there are wizarding schools all over the world. In fact, Harry Potter creator J.K. Rowling recently said there are 11 across the globe. She's confirmed a few more beyond the obvious ones but never one in the United States. That may change, however, when audiences see Rowling's latest work, Fantastic Beasts and Where to Find Them.
The author, who wrote the screenplay for 2016 adventure film set in the same world as Harry Potter, has teased that the film will reveal the name and locations of the American school of witchcraft and wizardry.
A Potter website called SnitchSeeker followed J.K Rowling's tweets about this interesting development. Here's where it begins.
.@MrBanankartong That information will be revealed in due course.

— J.K. Rowling (@jk_rowling) June 6, 2015
.@tannerfbowen No, but he's going to meet people who were educated at [name] in [not New York].

— J.K. Rowling (@jk_rowling) June 6, 2015
Newt Scamander is the name of the main character in the film, which will be played by Eddie Redmayne. He's a"magizoologist" whose writings on magical creatures would go on to become required reading for Hogwarts students. The film follows him and will be set in New York City around 1920, which is about 70 years before the start of the Harry Potter series. So while it's set in the same world as Harry Potter, it's long before his adventures took place.
However, as you can read in those tweets, the school will not be in New York, though Newt will meet people who went there.
Rowling did reveal that the name of the U.S. school itself is of "immigrant" origin but not "Native American" origin. However "indigenous magic was important in the founding of the school. If I say which tribes, location is revealed."
This may seem kind of insignificant who isn't a super duper Rowling/Potter fan, but it expands the mythology of Rowling's world considerably. It also potentially sets the stage for more stories in this world, not just in the Fantastic Beasts series.
Fantastic Beasts and Where to Find Them, directed by Potter-alum David Yates, is currently set for release November 18, 2016 with the next two installments potentially dated for 2018 and 2019.