Netflix Picks Up Brad Pitt Satire 'War Machine', From 'Animal Kingdom' Director David Michôd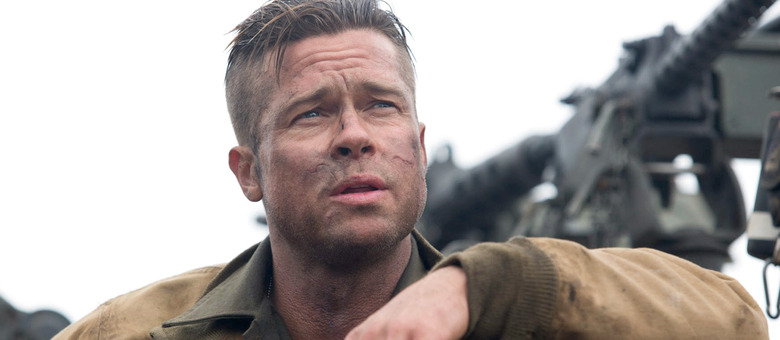 Netflix's movie distribution arm has just landed a major coup. The company has picked up the rights to War Machine, which is not another Marvel spinoff (sorry, Don Cheadle) but rather a satirical wartime comedy starring Brad Pitt. David Michôd (Animal Kingdom) is directing. Read all about the Netflix War Machine movie after the jump. 
Deadline broke news of the deal. Michôd wrote the War Machine script based on the nonfiction bestseller The Operators: The Wild and Terrifying Inside Story of America's War in Afghanistan, by late journalist Michael Hastings. Pitt will play a four-star military general modeled after Stanley McChrystal.
The real-life McChrystal was commander of international and U.S. forces in Afghanistan until 2010, when a Rolling Stone article by Hastings revealed unflattering remarks made by McChrystal about the current administration. McChrystal resigned from his post the day after his quotes hit the web. The Operators covers that controversy, as well as the aftermath.
Michôd made a splash with his debut feature Animal Kingdom, which turned Aussie actors like Joel Edgerton, Ben Mendelsohn, and Jackie Weaver into international stars. His sophomore effort The Rover, starring Guy Pearce and Robert Pattinson, hit theaters last year.
Pitt is coming off of another war movie, David Ayer's World War II tank drama Fury, and will next be seen with wife Angelina Jolie in her romantic drama By the Sea. He is currently filming Adam McKay's The Big Short, about the 2008 financial crisis. As a producer, his recent triumphs include World War Z, Selma, and 12 Years a Slave.
War Machine is a big get for Netflix. Following its successful push into original TV programming, the company has been working hard to establish itself as a major movie distributor. Pitt is Netflix's highest-profile star yet, and the kind of respected name who could put Netflix into the awards race.
Netflix's other upcoming films include Cary Fukunaga's Beasts of No Nation, Adam Sandler's Ridiculous Six, Ricky Gervais' Special Correspondents, Mark Duplass' Creep, Pee-Wee's Big Holiday, and Crouching Tiger Hidden Dragon II: The Green Legend.
Of course, a project this potentially huge comes with a correspondingly huge price tag. According to Deadline, War Machine cost Netflix around $30 million, making it the company's biggest investment yet in a feature film. Pitt will produce through Plan B with Dede Gardner and Jeremy Kleiner. Ian Bryce also serves as producer.
The plan is to release War Machine on Netflix in late 2016, following an awards-qualifying run in theaters.