Sideshow Bob Will Finally Get His Wish On 'The Simpsons'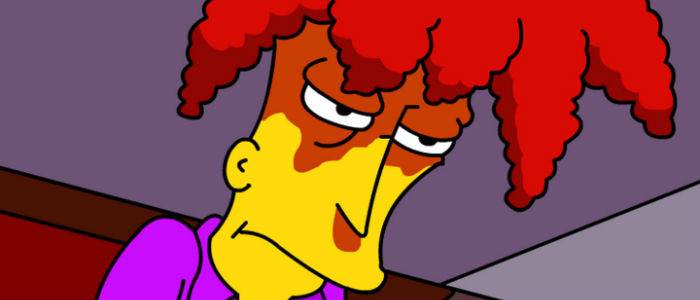 Krusty the Clown's former assistant Sideshow Bob has long been defined by two things: his crazy red hair and a need to kill Bart Simpson. Basically, Bart foiled one of Sideshow Bob's early criminal plans and ever since, Bob's devoted his life to killing Bart. Time and time again he's concocted nefarious schemes to kill the skateboarding wise ass and every time Bart, usually with the help of his sister, outsmarts the mastermind.
That changes this year. The Simpsons executive producer Al Jean revealed that, in this year's Treehouse of Horror episode, Sideshow Bob will finally kill Bart Simpson.
Entertainment Weekly reported the Sideshow Bob Bart Simpson news, which came out at the ATX Festival in Austin. You can listen to it here.
Of course Jean doesn't specifically say the words "Bart Simpson is going to die" but it's not difficult to read between the lines. According to EW, once that happens, the story will be about Bob finding life difficult having accomplished his dream.
Also, don't worry about Bart. Very few things on The Simpsons, let alone the stand-alone Treehouse of Horror episodes, stick. So just cause he dies, he'll be back next episode, or potentially in the next story of the anthology.
I love when The Simpsons steps back from itself and does something to change its history. Whether its tease the actual state that Springfield is in or show the character's actually age, it's a nice change of pace to see things outside of the norm. Killing one of the main characters - and not someone like Maude Flanders, which happened a few years ago – will be interesting. How will the family react? How will the town react? I hope the episode deals with that at least a little bit.
Then again, I also love The Simpsons can do something different and then forget about it. I don't want Bart to die, but I'd like to see what if.
Are you happy for Sideshow Bob?