'Cut The Rope' Movie Coming In 2016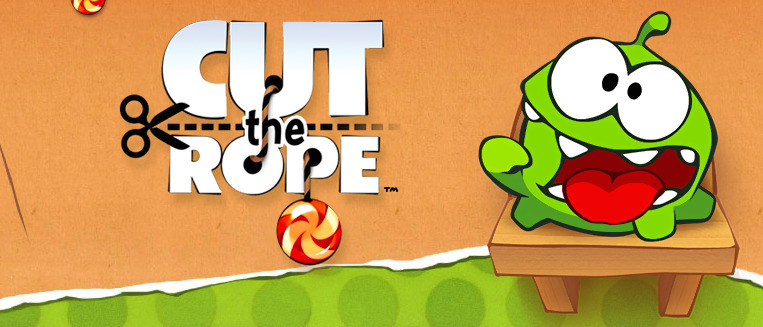 Hungry little Om Nom is jumping from the smartphone screen to the big screen. ZeptoLab and Blockade Entertainment are developing an animated feature based on the Cut the Rope, the popular mobile game about a little green monster who demands candy. Hit the jump for plot details, a teaser poster, and more from the Cut the Rope movie.
Tentatively titled Om Nom, ZeptoLab and Blockade plan to have the Cut the Rope movie in theaters next year. Here's the official synopsis:
Om Nom tells the story of 13-year old Evan, a boy whose impulsiveness leads him to open a secret package containing a living scientific experiment – with mischievous intentions! Known only as Om Nom, this adorable creature has an insatiable appetite for everything sugary. Now free to roam, Om Nom begins to wreak havoc upon this formerly quiet town, and Evan, with his little sister Jordan in tow, must follow him on an epic adventure while avoiding a host of government agents, shady characters and other unique creatures – all of whom are looking to capture Om Nom for themselves.
Along the way, Evan and Om Nom will discover the importance of trust and patience, and how life's accidents can sometimes lead to incredible discoveries and unforgettable moments.
Originally launched in 2010, the Cut the Rope series of games has been downloaded over 700 million times to date. The basic game involves cutting string and employing various gadgets to maneuver sweets into Om Nom's mouth. The franchise has expanded to include a comic book series and a short-form animated web series, the latter of which has racked up over 600 million views.
In a statement, Misha Lyalin, CEO of Cut the Rope developer ZeptoLab, called the Om Nom movie "a logical continuation" of the popular YouTube series, and "a great opportunity to tell Om Nom's story to as many people as possible."
Lyalin also talked up Blockade. "With a great record with movie adaptations of video games, Blockade was clearly the right partner for us," he said. "They know how to make an interesting film without losing the spirit and the style of the original." Blockade Entertainment is behind upcoming adaptations of the video games Ratchet & Clank and Sly Cooper.
No director, screenwriter, or stars have been announced as of yet. Om Nom will be produced by Blockade's CEO Brad Foxhoven and Blockade's VP of development David Wohl. ZeptoLab's CTO Efim Voinov and ZeptoLab's creative director Semyon Voinov will executive produce.
See the first colorful Om Nom teaser poster below: