'Microbe And Gasoline' French Trailer: Michel Gondry Makes A Road Movie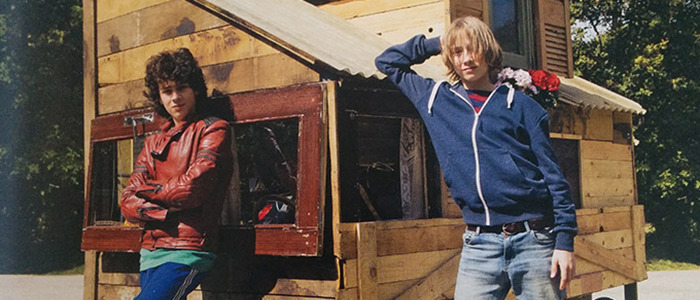 Microbe and Gasoline is the name of the new film from Michel Gondry, and two of those three words are also more or less the names of the main characters. Microbe is the introvert; Gasoline, the one in the red jacket, is the outgoing new kid in school. They form a fast friendship, and avoid their families over the summer by building their own car — so this is a road movie, Michel Gondry style. Check out the first Microbe and Gasoline French trailer below.
There's no English language or subtitling here, but you'll get the idea. There is a not safe for work image or two in this trailer, but the stuff goes by so quick that most people will be fine.
This is the sales synopsis for the film, revealed when the film was in Cannes, via Film Divider. Trailer via StudioCanal.
Microbe is a child in the margins, often immersed in his drawings; Diesel is an inventive and cheeky boy, was parachuted into school in the middle of the year. They immediately develop a deep friendship. As the summer holidays approach, the two friends don't want to spend two months in the company of their families, so they build their own 'car' out of a motor mower and some planks of wood, and set off on an adventure on the roads of France.
Here are a few images that snuck online in the past couple weeks.
asd