'Southpaw' Trailer #2: Jake Gyllenhaal Gets In The Ring For Antoine Fuqua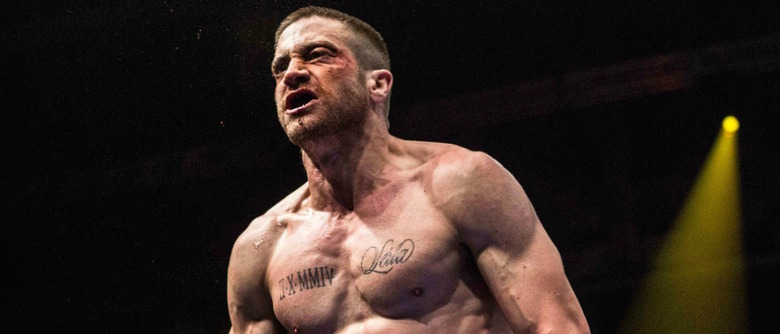 How do you follow up a performance like the one in Nightcrawler? If you're Jake Gyllenhaal, you bulk up until you're nearly unrecognizable as the same guy who played the gaunt and hungry Lou Bloom, and then you get in the ring for director Antoine Fuqua.
In Southpaw, Gyllenhaal plays a boxer who's on top of the world... until a tragic incident sends his life spinning out of control. After hitting rock bottom, Billy begins the difficult process of scraping himself back together, with the aid of his new mentor Tick (Forest Whitaker). Check out the new Southpaw trailer after the jump.
Here's the second Southpaw trailer via YouTube. It's shorter than the last trailer, but thankfully that also means it's less spoileriffic.
Over the past few years Gyllenhaal has built up a reputation as one of the best actors of his generation — and one who picks interesting, diverse projects instead of playing it safe. Southpaw looks like yet another fantastic showcase for his intensity.
Also released earlier this week was "Phenomenal," Eminem's new song for the Southpaw soundtrack. Hey, remember when Eminem was supposed to be the star of this movie?
Southpaw opens July 24. Also starring are Rachel McAdams, Rita Ora, Naomie Harris, 50 Cent, and Oona Laurence. Kurt Sutter (Sons of Anarchy) wrote the script.
From acclaimed director Antoine Fuqua (TRAINING DAY) and starring Academy Award® nominated Jake Gyllenhaal (NIGHTCRAWLER, BROKEBACK MOUNTAIN) comes a story of tragedy, loss and the painful road to redemption... Billy "The Great" Hope (Gyllenhaal) is the reigning Junior Middleweight Champion whose unorthodox stance, the so-called "Southpaw," consists of an ineloquent, though brutal, display of offensive fighting... one fueled by his own feelings of inadequacy and a desperate need for love, money and fame. With a beautiful family, home and financial security, Billy is on top both in and out of the ring until a tragic accident leaves his wife dead and sends him into a downward spiral.