'Creep' Trailer: Don't Listen To Mark Duplass When He Says "Don't Be Scared"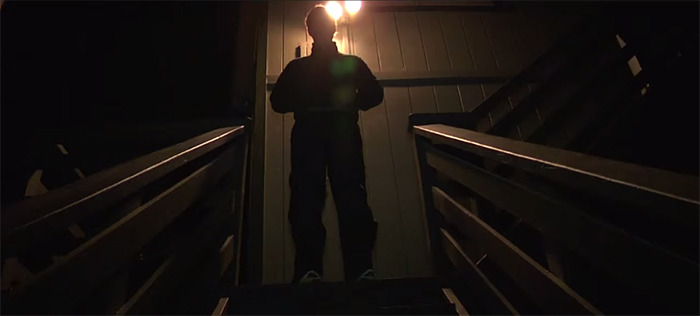 Mark Duplass can play sensitive and affable, but he's also able to tap into an undercurrent of weird and off-kilter sensibility. Both sets of skills seem to be on display in Creep, from writer/director Patrick Brice, who also co-stars. Brice plays a cash-stapped guy who answers an ad offering to pay $1000 for a day's worth of filming. His temp employer, played by Duplass, seems to have a legit project in mind, but at the end of the day things start to get weird. Really weird. Check out the Creep trailer below.
This film is reportedly being spun out into a trilogy, which is an interesting development for what looks like a pretty contained story. Chew on that concept while you consider this footage.
Creep will be on iTunes beginning June 23, and will stream on Netflix from July 14. Trailer via Patrick Brice.
Looking for work, Aaron (Patrick Brice) comes across a cryptic online ad: "$1,000 for the day. Filming service. Discretion is appreciated." Low on cash and full of naiveté, he decides to go for it. He drives to a cabin in a remote mountain town where he meets Josef (Mark Duplass), his cinematic subject for the day. Josef is sincere and the project seems heartfelt, so Aaron begins to film. But as the day goes on, it becomes clear that Josef is not who he says, and his intentions are not at all pure. The directorial debut of Patrick Brice and produced by Jason Blum (PARANORMAL ACTIVITY, INSIDIOUS) and Mark Duplass (SAFETY NOT GUARANTEED), CREEP's intense interplay between its two protagonists upends expectations at every turn.